Living in Pink in Georgetown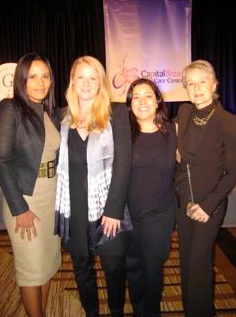 Did you know that women in the District of Columbia who contract breast cancer have some of the highest mortality rates in the country? I wasn't aware of this startling statistic until I attended Capital Breast Care Center's "The Gift of Life" breakfast benefit at the Grand Hyatt hotel Oct. 13.
My host was Toni Gordon, a Georgetown resident who invited me for the second year to a celebration of her 11-year anniversary as a breast cancer survivor and advocate. "Several years ago my mother was looking for just the right (breast cancer) organization to support" explains Toni's daughter Hayley Gordon-Pivato, also a Georgetown resident, and the two found that after attending the CBCC event together "it was a perfect fit and my mother immediately became passionately and actively involved in CBCC as a volunteer, patron and board member." Last year Toni shared her own story as part of the speaker program at the Gift of Life event and it was touching to be there to celebrate with her.
For the past several years the entire Gordon family including husband Bob and daughters Hayley and Kim have helped to fill tables with friends at the annual event and encourage friends and fellow Georgetowners to do the same, many of whom have now themselves become active supporters. Guests at the Gordon's tables this year included Rebecca Fishman, Lesley Lee, Toni Brody and Constance Chatfield-Taylor. Gordon works on community outreach and awareness and has plans to partner with other organizations to help mitigate DC's breast cancer mortality rate crisis.
The mission of CBCC is to provide breast cancer screening and health services for women in metropolitan Washington regardless of their ability to pay.
The program included NBC4's Angie Goff as emcee and an impressive lineup of speakers including Congresswoman Debbie Wasserman Shultz, keynote Dr. Felicia Knaul, Director of the Harvard Global Equity Initiative, Carol Kurzig, President, Avon Foundation for Women and former D.C. First Lady Michelle Cross Fenty who serves as the President of the CBCC Advisory Council. Breast cancer survivors and CBCC patients related personal struggles with the illness as well as the healthcare bills and other disruptions of their daily life, for which CBCC offers support and guidance. Claudia Gilmore, founder of Previve.com related her heartbreaking and hopeful story of having a prophylactic double mastectomy at age 24 after learning she had a 90% chance of contracting cancer later in life.
One of the most important takeaways of the morning (besides the custom pink Georgetown Cupcakes) was the message that every insured woman who uses CBCC for her screening helps to finance screenings for women who can't afford them. Experts suggest annual screenings for women over 40 (in some cases earlier with cancer in the family) so why not take advantage of the expertise and compassion the center's staff offers while preventing another District resident from falling through the cracks of our nation's healthcare system? As someone whose life has been directly affected by breast cancer in my family, I can say that I plan to do everything I can to raise awareness about early screening and the services available to all women in Washington through the CBCC. And…..
Since it is "Pink-tober," here's another great event during Breast Cancer Awareness month: Pink Jams' live music and fashion show "Pink Rocks the Runway 2011" Oct. 21.
For tickets and information: www.pinkrockstherunway.com, www.pinkjams.org www.previve.com, www.capitalbreastcare.org.