Lined Paper, Thumbtacks and Binders, Oh, My!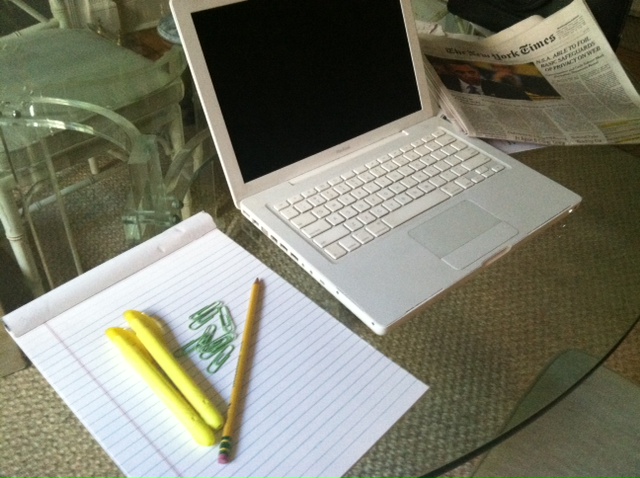 Reading the list on her iPhone as she marches down the aisle at Staples, Katherine tells me she needs five binders.
"And where do you think the graph paper would be?" she says. "I have no idea," I tell her. "Let's find someone who works here."
"Binders, binders, binders," I say under my breath, my eyes glazing over. "Where are the darn binders?" Of course, the middle-aged father with his middle school son, also back-to-school shopping, probably thinks I'm a Romney relative, albeit, a crazed one.
"Let's look for binders full of women," I say to Katherine. She glares at me, rolls hers eyes, and steps away, not wanting to be associated with such a "dork."
I've always dreaded back-to-school shopping. I practically break into hives at the mere sight of a highlighter. All these lists, supplies, calendars. I'm not the organized type, so a place like Staples--similar to The Container Store--makes me nervous. Extremely nervous.
Not so for my 7th grader. "I love being organized," she says. "Nothing makes me happier than making lists." She is dead serious.
If I hadn't given birth to her 13 years ago, I'd wonder if she were really my child. Could she be a mutation? Liking organization and making lists? Always begging me to take her to Staples, even when we're not back-to-school shopping. Seriously?
I know I should be more organized. But I'm the type of person who pays the Pepco bill when the disconnection notice arrives--in a yellow envelope. Yellow, yikes, it must be time. Got one today, actually. Guess I should pay Comcast and the water bill while I'm at it.
What is it about bills and office supplies that sends my nerves aflutter? Is it that I really don't want to be a responsible grown-up--at 47? Perhaps I need to take a hard look at this problem and take a page out of my daughter's book, er, binder.
So I'm thinking about making some changes as the school year starts. Like New Year's Day, the beginning of the school year is a time to start over. I will imagine my life as a fresh piece of white paper, ready for a new--and more organized--story to tell.