Liking my PINK bike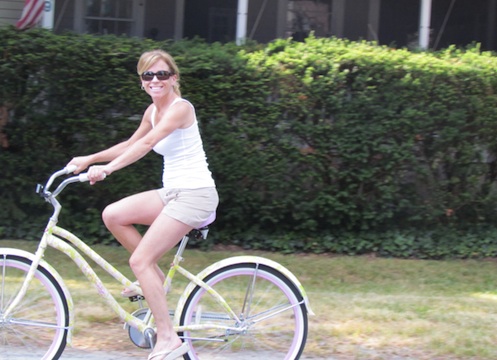 I spotted the tricked-out pink and green number in the window of Tickled Pink, a Rehoboth Beach shop known for its Lilly Pulitzer dresses. But this wasn't a dress or any other cute, clubby attire. It was a bike--a beach cruiser with white and pink tires, a white seat and floral frame of daisies. One look and I had to have it.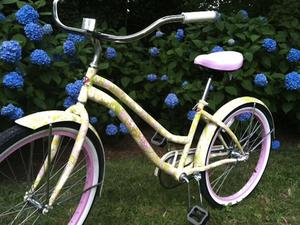 As mid-life crises go, this was certainly less expensive than a convertible Porsche. And it still provided me with the rush of wind in my hair and speed I seemed to crave. There's something about a bike with no gears that is so basic and uncomplicated. In Georgetown, we need gears to climb the hills. We rush around, hitting speed bumps--real and metaphorical--along the way. At the beach, we cruise along the ocean or pedal past cottages lined with hydrangeas. Of course, I really
didn't need a pink and green Lilly bike. I already had a choice of beach cruisers--albeit, chipped and rusted ones--at my parents' cottage. So why this one? For starters, it was just plain pretty. Having grown up with two older brothers, I spent a lifetime getting hand-me-downs in every shade of, uh, let's see...navy blue or red. There were no dolls in our household, let alone pink bikes. So when I saw the floral two-wheeler, it appealed to my girly side. It also appealed to my girls' girly sides. "It's so cute, Mommy. You've got to get it," Peyton convinced me. Her motives weren't entirely altruistic, because the minute I rolled in with it, my daughter promptly took it for a spin. This week, as we head to the beach for the Fourth of July, the first thing I plan to do is hop on my multi-hued bike. I can't think of a better way to celebrate freedom.