Light and Creamy Mashed Potatoes for the Thanksgiving Table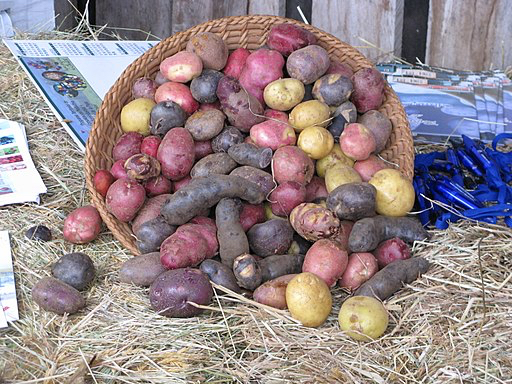 Marion Burros' Streamlined Mashed Potatoes
(Excerpted from "Diet Simple: 195 Mental Tricks, Substitutions, Habits & Inspirations")
Potatoes have more potassium than any raw fruit or vegetable, even a banana. Potatoes contain half your requirement for Vitamin C. They rank 5th out of 42 vegetables tested for antioxidant capacity, coming ahead of broccoli, cabbage, and tomatoes. A 5.3 ounce serving of potatoes have only 110 calories. Potatoes could sustain your body healthfully with just a few dairy products and oil added. Think of all the cultures through hundreds, if not thousands of years, which survived on potatoes... Scandinavians, Russians, Irish, Peruvians... You get the picture!
I can't imagine a better comfort food!
Serves 6
1 pounds unpeeled thin-skinned potatoes (Yukon Gold or other boiling potatoes), scrubbed and sliced 1/4 inch thick
2 Cups Nonfat Buttermilk, or more
Salt and freshly ground black pepper to taste
1. Cook the potato slices in water to cover until tender, about 10 minutes. Do not let them get so soft that they start to disintegrate; that makes them watery. Drain and mash the potatoes - peel and all - in a food mill, through a ricer, or with a potato masher.
2. Stir in the buttermilk until the potatoes become creamy. Season with salt and pepper.
NOTE: The potatoes can be refrigerated, if well covered, but they are best when fresh. To serve, place in a glass dish, cover wtih plastic wrap, and reheat in the microwave for about 8 minutes on high. Stir once or twice while reheating. If the potatoes become too dry, stir in additional buttermilk. Use waxy potatoes for boiling like Red Bliss or fingerlings. Yukon Golds are all-purpose.
*/
Streamlined Mashed Potatoes is excerpted from Cooking for Comfort (Simon & Schuster 2003) by Marion Burros. Burros is a columnist and writer for The New York Times since 1981, she lives in New York City and outside Washington, D.C.