Libertarian Presidential Ticket Sounds Off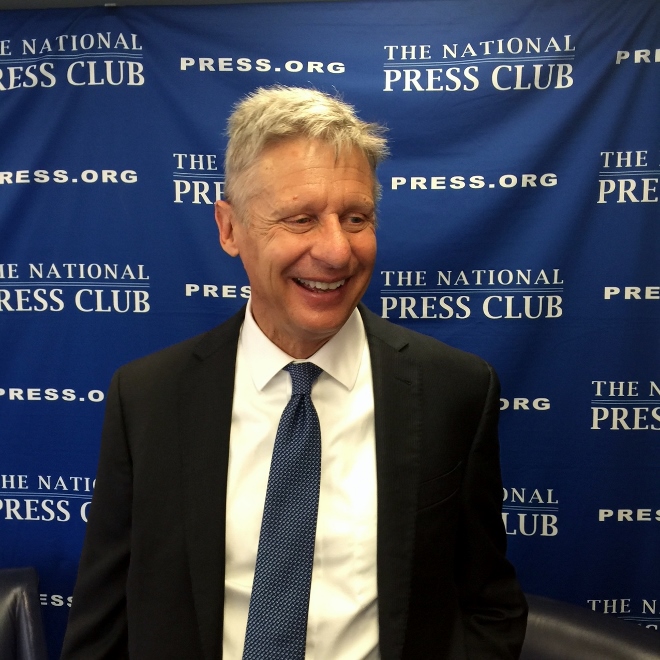 Libertarian Party presidential candidate Gary Johnson promised he would not smoke or ingest marijuana in the White House if he wins. The pledge came as he and his running mate, former Massachusetts Gov. William Weld, spoke at a luncheon Thursday at the National Press Club.
And, Johnson said, he hasn't smoked or ingested pot for two months now, adding that he hasn't had an alcoholic drink in 29 years. The former New Mexico governor, 63, is a physical fitness buff, an outdoor enthusiast, and is an avid mountain climber.
In a highly tell-the-truth talk, Johnson said the two candidates, Donald J. Trump and Hillary Clinton are so polarizing that "if Mickey Mouse ran, he would poll at 30 percent . . . But he is not."
Johnson emphasized that he needs at least 15 percent in polls to be in the presidential debates. "We can do that," he predicted.
Asked which candidate he would take votes from, Johnson said both.
"This is a party that needs crashing," he said. "I think people are eager to vote for someone as opposed to between two evils."
In listing things a Johnson-Weld ticket would do in the White House, Johnson ticked off: honesty, no insults, no bluffs, no self-serving lectures, an end to crony capitalism, and no hesitation about delivering bad news.
"This is the craziest election we have ever seen," he said. "You know how crazy it is? I might be the next president of the United States."
Weld noted that one of his running mate's famous Libertarian saying is: "I want to keep the government out of your wallet and out of your bedroom."