Let's Play Some Football! Super Bowl Chili, Fresh Salsa & Guac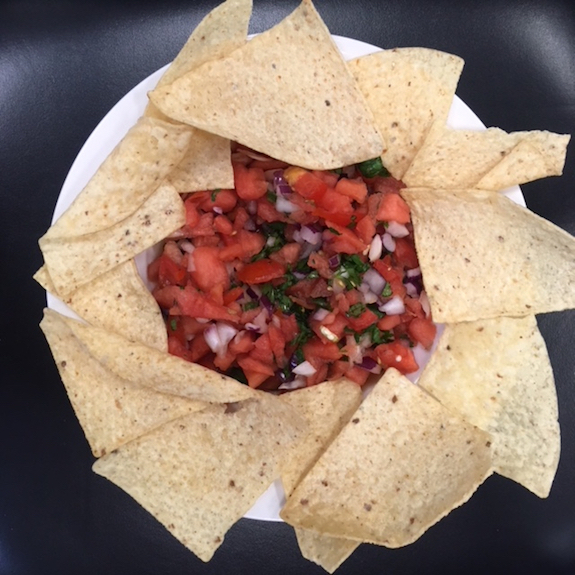 When The Washington Post was considering doing a feature story about my book, Diet Simple, among the recipes they tested was my chili. They loved it! The whole-front-page "Food" section feature was written. No one would ever guess my chili is healthy. That's why I call it "stealthy healthy!"
Katherine's Chili Non Carne (excerpted from Diet Simple: 195 Mental Tricks, Substitutions, Habits & Inspirations (LifeLine Press)
Try making this recipe a day ahead of time so the flavors and textures have a time to develop. I love this simple, quick chili recipe. It's meatless but you don't miss the meat because it's so flavorful and the meat-like texture is deceptive. You should use the amount of garlic or chili powder that appeals to you. I like it hot and spicy! I double the recipe, using a whole pound of dried black beans, so I have plenty for the week. I use this dish as a lunch or dinner alongside a green salad. I also serve it at parties as a dip next to my fresh tomato salsa, nonfat Greek yogurt, and guacamole. It's perfect rolled up in a tortilla or stuffed in a taco with some reduced fat cheese.
Serves 4 as a main course, 8 or more as a dip or topping
1 Tbsp Olive or Canola Oil, or more 1 Large Onion, Chopped 3 Large Garlic Cloves, Minced (more or less) 3 Tbsp Hot Chili Powder (try 50/50 Chipotle Chili, maybe a dash of smoked paprika, called "Pimentón," and just a pinch of Cinnamon) 1 Large Fresh Green Pepper, Chopped1 28- oz. Can Italian Plum Tomatoes, chopped, including the liquid 1 Pound Can Kidney or Black Beans, whichever is preferred 1/2 Cup Water (To Hydrate the Bulgur) 1/2 Cup Bulgur (Cracked Wheat) 2 Seeded Jalapeño Peppers, chopped, if desired Salt and Pepper to Taste
Sauté the onions and garlic in the oil over low heat in a large pot until soft, 15 or more minutes. Add the chili powder and simmer for a few more minutes. Add the Fresh Green Pepper and cook until al dente. Meanwhile, soak the bulgur in the boiling water for 15 minutes. Add all remaining ingredients including the bulgur and simmer slowly over low to medium heat until flavors are well blended and vegetables are cooked to the desired consistency ... a few minutes or longer, if desired. Adjust seasonings to your preference. Since many canned items were used, additional salt will probably not be needed.
Calories per serving 320, Total Fat 7g, Saturated Fat 1g, Carbohydrate 59g, Fiber 13g, Protein 12g
Katherine's Spicy Fresh Mexican Salsa with Mild Guacamole (excerpted from Diet Simple: 195 Mental Tricks, Substitutions, Habits & Inspirations (LifeLine Press)
Fresh salsa - Pico de Gallo - doesn't really need a recipe. These are proportions I have found pleasing. But you may want your salsa, with more or less onions, spice, sweet (try adding watermelon), parsley instead of cilantro... The options are endless.
22 servings
Ingredients
1 large onion, peeled and chopped (about ½ pound) 2 lbs fresh tomatoes, peeled, seeded and chopped (start with about 3-1/2 lbs) (Use canned tomatoes, if good tomatoes aren't available) 3 – 4 jalapeño peppers (1 – 2 ounces), to taste ¼ cup chopped fresh cilantro ½ tsp salt, or to taste 3 – 4 Tbsp fresh lime juice or the juice from 1 – 2 limes (optional. I often skip the limes)
Add the onion to the tomatoes. Finely chop 2 of the jalapeño peppers to start with. Taste. If you desire more heat, add 1 – 2 more jalapeños. Mix in the cilantro. Add the salt depending on your taste. Mix in the lime juice. Best served within one or two days.
20 calories, 0g fat, 5g carb, 1g fiber, 1g protein
Katherine's Guacamole
There's a million recipes for Guacamole. You can keep it mild, or make it hot by adding hot peppers. Throwing in fresh salsa makes it chunky and yummy, too.
12 Servings
Ingredients
2 ripe avocados 1/3 cup chopped fresh cilantro 2 Tbsp lime juice (optional) ¼ tsp salt, or to taste freshly ground black pepper, to taste
Cut avocados in half lengthwise and pull out the pits. Scoop out the meat. Place in a medium bowl and mash, keeping some large chunks. Mix in the cilantro, lime juice, salt and pepper. Taste to adjust seasoning. Serve the same day.
50 calories, 5g fat, 1g sat fat, 3g carbs, 2g fiber, 1g protein