Let's Join Hands and March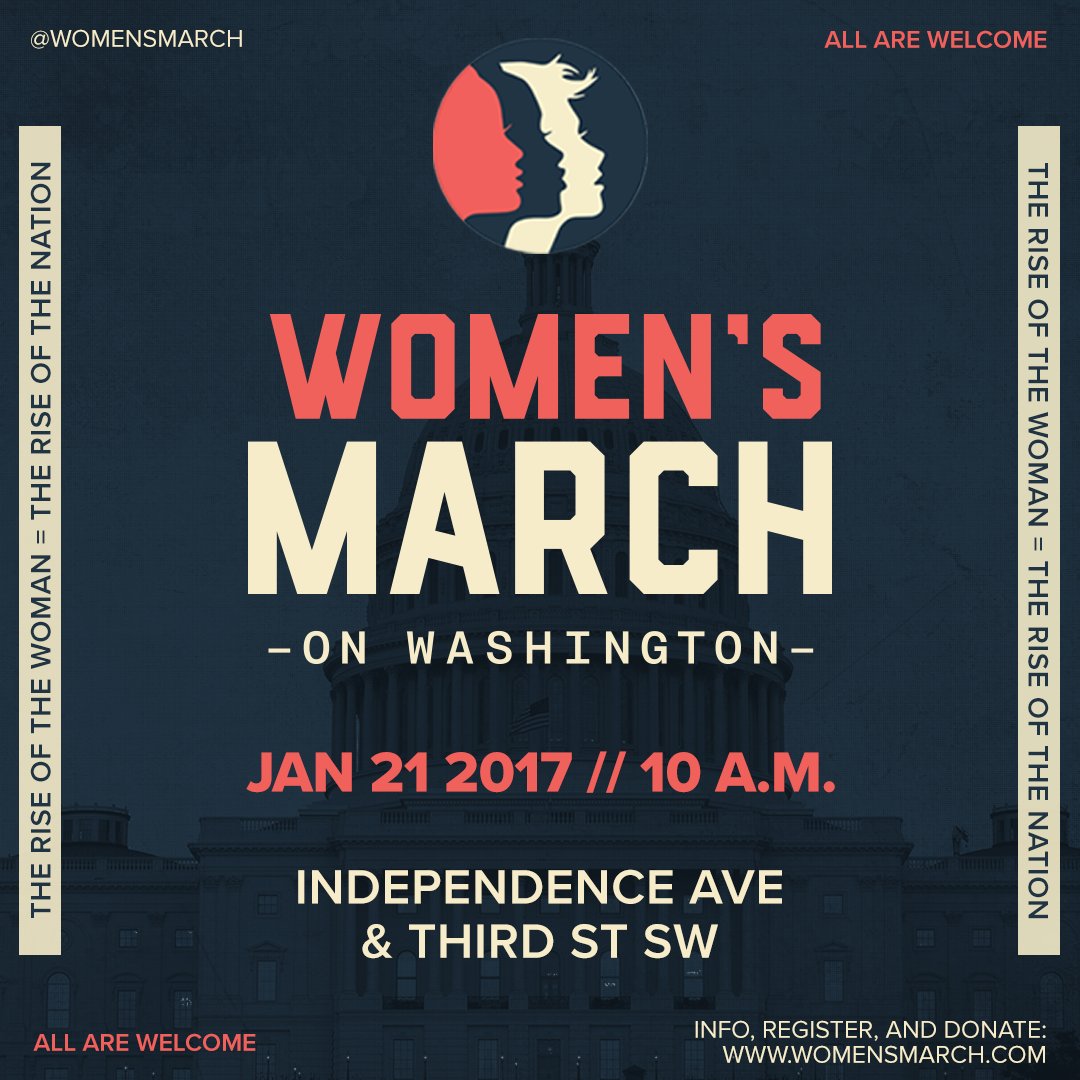 At noon on January 20, 2017 Donald Trump will be sworn in as the nation's 45th President. We have little real knowledge of what will happen during his Presidency but the feeling is it won't be good for the nation or the world. Thus far we see a man who will be President make pronouncements in 144 characters using twitter. Bizarre to say the least.
I will not go to the inauguration but will join hands with the anticipated over 100,000 for the Women's March on Washington at 10:00 am on Saturday, January 21, 2017. We march to tell the new administration we will fight any effort to take our nation backwards. The mission statement of the march reads, "The rhetoric of the past election cycle has insulted, demonized, and threatened many of us - immigrants of all statuses, Muslims and those of diverse religious faiths, people who identify as LGBTQIA, Native people, Black and Brown people, people with disabilities, survivors of sexual assault - and our communities are hurting and scared. We are confronted with the question of how to move forward in the face of national and international concern and fear.
In the spirit of democracy and honoring the champions of human rights, dignity, and justice who have come before us, we join in diversity to show our presence in numbers too great to ignore. The Women's March on Washington will send a bold message to our new government on their first day in office, and to the world that women's rights are human rights. We stand together, recognizing that defending the most marginalized among us is defending all of us.
We support the advocacy and resistance movements that reflect our multiple and intersecting identities. We call on all defenders of human rights to join us. This march is the first step towards unifying our communities, grounded in new relationships, to create change from the grassroots level up. We will not rest until women have parity and equity at all levels of leadership in society. We work peacefully while recognizing there is no true peace without justice and equity for all. HEAR OUR VOICE."
There are eight 'Unity Principles' that bring people together. They are; ending violence, reproductive rights, LGBTQIA rights, worker's rights, civil rights, disability rights, immigrant rights and environmental justice.
We raise our voices to defend progress made over decades and moved forward under Barack Obama. We will not sit by idly while a new administration turns back the clock on equality. Instead we unite and work tirelessly to continue to make progress until there is a guarantee of civil and human rights for all.
The world is watching as the Trump administration begins. We cannot allow those who look to America for leadership to believe there is no active resistance to the words we are hearing from him and those who would be part of his administration.
President Obama spoke out on all these issues. The first piece of legislation Obama signed after taking office in 2009 was the Lily Ledbetter Fair Pay Act soon followed by the Matthew Shepard and James Byrd, Jr. Hate Crimes Prevention Act. He signed the Affordable Care Act better known as Obamacare giving more than 20 million people healthcare insurance for the first time in March of 2010. But much of what the President did during his second term was by Executive Order and those can be even more easily overturned by Trump; some with the stroke of a pen.
Much is at stake. Trump has committed to nominating Supreme Court Justices who oppose Roe v. Wade and some on his list would like to overturn marriage-equality. There are those who will assume Cabinet positions who support dismantling Medicare and Medicaid and curtailing Social Security. The progress made to slow climate change is at risk to say nothing of our other treaties and alliances around the world.
That is why I will march and why it is so important for you to join me, and Gloria Steinem and Harry Belafonte the March honorary Co-chairs. We march because we believe we must say to this new administration; we are watching and we are united; ready and willing to act to save the principles and rights we believe in.
Note: The Women's National Democratic Club will serve as a clubhouse for the March and will be open all day on Thursday, Friday and Saturday. For more information the club number is 202.232.7363.