Lei'd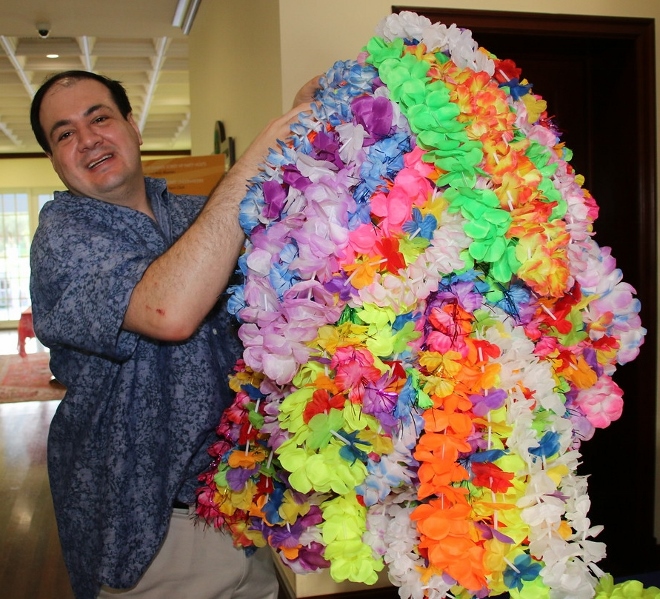 The 200 or so guests were abundantly forewarned in the invitation: "Prepare To Get Lei'd!"
No joke.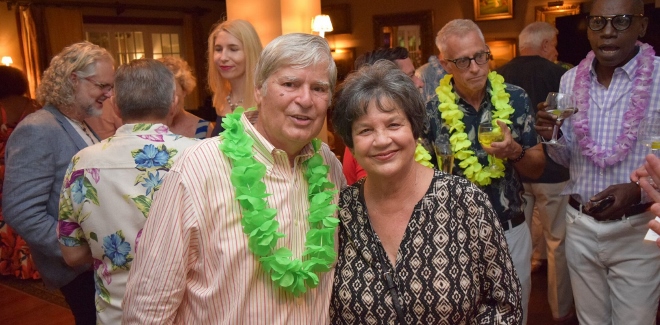 As each guest came into the Palm Beach County Human Rights Council's (PBCHRC) Fantasy Island gala last week, they were bedecked with complimentary Hawaiian-style paper leis. Pictured at top is Steven Licari handing out the leis.
The summer soirée (with a Georgetown connection!) was held at the National Croquet Club in West Palm Beach to show support for human rights communities. The party also was a chance for political hopefuls to hobnob for support, for already elected officials to mingle, and friends to catch up despite the big summer exodus to cooler climes.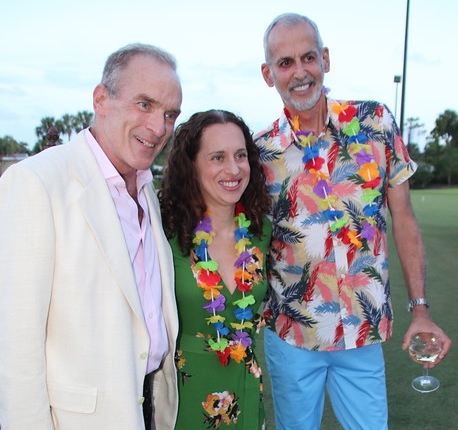 Outside, the deck and manicured lawns were decorated with tables shaded by colorful ruffled-top umbrellas. Inside, the guests lounged on spacious sofas and plush chairs. Hors d'oeuvres were passed but the food played second fiddle to the main theme of spirited conversation. Nibbling, chatting and balancing drinks at the same time is a challenge no matter how seasoned partygoers are.
Attorney Rand Hoch, a Georgetown University grad, is president and founder of PBCHRC, which was founded in 1988. Two of the group's landmark achievements: In 1990, their advocacy led to Palm Beach County becoming the first public employer in Florida to include in its affirmative action plan a ban on discrimination against hiring. In 1992, PBCHRC persuaded West Palm Beach to become the first public employer in Florida to provide domestic partnership benefits. PBCHRC is dedicated to ending discrimination based on sexual orientation, gender identity and gender expression.
"This event has become a staple on the summer social calendar, the place where South Floridians committed to equality can kick up their heels and invest in a good cause at the same time," said Hoch.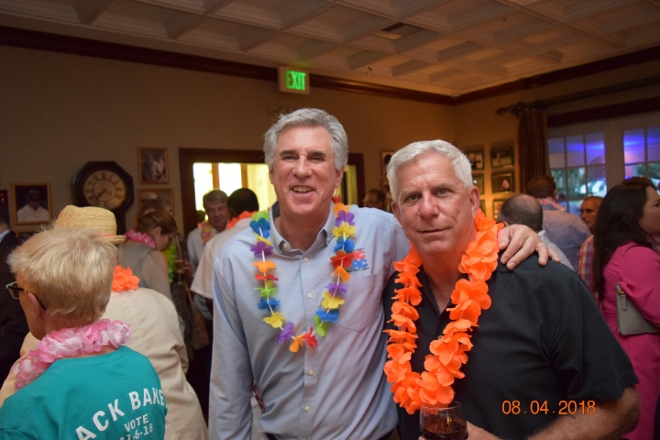 Among the event sponsors were Palm Beach Town Council member Lew Crampton, Ocean Ridge Mayor James Bonfiglio, and West Palm Beach City Commissioner Keith James.
The gaggle of politicos included Congresswoman Lois Frankel, with Congressional candidate Lauren Baer; former County Commissioner and West Palm Beach mayoral candidate Priscilla Taylor; political/polling consultant Daryl Glenney (also a Georgetown alum); Michael McAuliffe, who is running for Circuit Court Judge; Property Appraiser Dorothy Jacks, with her husband, Britt Deviney; incumbent School Board member Karen Brill; and Supervisor of Elections Susan Bucher, taking a breather before Florida's heated August 28 primary.