L'Eclaireur Number 26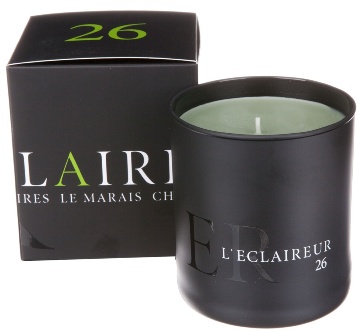 It's been a tough week for my olfactory glands. On a quest for a more complex and layered version of my current signature fragrance, Chloe, I annoyed way too many salespeople (and customers) by asking them to smell my wrists and elbows. Even with all that professional advice and vote-taking, I made a couple of exuberant but ulitmately disappointing selections, including the brilliantly packaged polka-dotted but too spicy new Marni. But I'm happy to report I'm now thrilled with Elie Saab Le Parfum.
The Lebanese fashion designer's first fragrance is "a sweet and spicy floral etude that focuses on both jasmine and orange blossom but surprises with a warm patchouli and honey base ... Elie Saab feels like a watercolor painting of a summer sunset, all oranges and peaches and golden hues. However whereas a sunset often moves from blue to orange to black, Elie Saab remains forever golden. Although the floral sweetness softens over time and the patchouli peeks out to say 'hey, don't forget me,' the fragrance stays similar from start to finish."
So, after all that sniffing, I was reminded of the one fragrance I 've been uniquivacably crazy about for years, an earthy green candle with scents of grass, violet and fig: L'Eclaireur Number 26. It's named after the street number of the Parisian boutique at 26, rue des Champs Elysées. The company's other locations each have their own distinctive scented candle numbers.
Alas, Hu's Shoes (where I discovered L'Eclaireur) no longer carries the line, but thanks to Marty who reminded me which scent number I love, I found it online.
Available for $60 at farfetch.com.