Leaders rally for democracy as investigations march on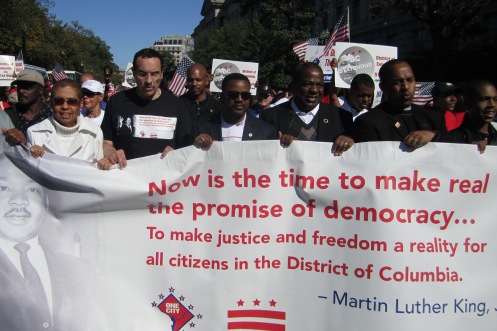 The city's top leadership took advantage of the national attention to the dedication of the Martin Luther King Memorial as well as continuing anti-Wall Street demonstrations, marching on Saturday for "full democracy and freedom" for District residents while media reports indicated that federal investigations of the Mayor now involve fingerprinting and key witnesses before a grand jury.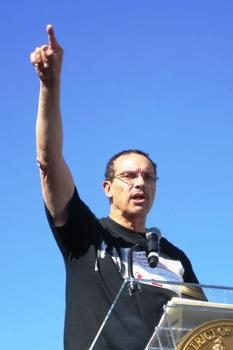 City leaders, including Mayor Vincent Gray, Congresswoman Eleanor Holmes Norton and Council Chairman Kwame Brown along with Ralph Nader, Ilir Zherka, director of D.C. Vote, Walter Fauntroy, Jr. and other members of the council addressed several hundred residents, city government employees, activists and others. Their message was a demand for full representation in Congress and freedom for D.C. residents.
"I am sick and tired of paying taxes to a nation whose leaders treat us with disdain," the Mayor said. It's time to "demand our freedom."
The rally culminated with a march down 15th Street to the Sylvan Theatre on the Mall with the leaders holding a banner with a quote from Martin Luther King: "Now is the time to make real the promise of democracy…To make justice and freedom a reality for all citizens in the District of Columbia." On the Mall, the D.C. marchers merged with the demonstrations led by the Rev. Al Sharpton for jobs and justice and from Occupy Wall Street.
Meanwhile the Washington Post and the Washington Examiner reported that investigators appear to be focusing on Gray campaign consultants Sulaimon Brown and Howard Brooks, focusing on envelopes with cash passed to Brown during the Mayoral campaign.
D.C. Councilmember Jack Evans told the Examiner Sunday the Gray campaign investigation and probes into Ward 5 Councilmember Harry Thomas Jr. and Chairman Kwame Brown's campaign are a distraction for city hall.
"I'm just hoping for the sake of everyone involved, they [resolve] this as quickly as possible," Evans told the Examiner.