Last Club Standing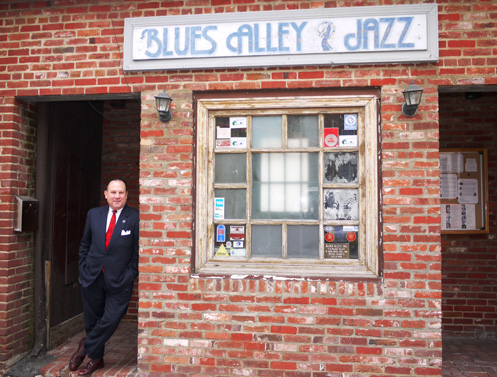 After studying under Ernie Caceres and Peanuts Hucko, playing clarinet in college bands and later with stars like Charlie Byrd , musician Tommy Gwaltney purchased a small, dark club in Washington called Blues Alley in 1965. Unlike other jazz clubs driven by profit, Blues Alley was a musician's club first. The same year, a Georgetown University student took a job at the club to earn a bit of extra money. That student was Chris Murray, who later opened Govinda Gallery. Decades later, both personalities continue to influence the music and art of Georgetown -- as well as the nation's.
In fact, their influence on a global scale -- reaching fans around the world -- may be a forshadowing of a jazz renaissance to come.
If past is prologue, Blues Alley's future is bright. "It was the premier jazz club in the city," Murray says. His gallery specializes in iconic musical photography.
The club in Georgetown was part of a constellation of active hot spots in Washington -- Shamrock, The Cellar Door, Crazy Horse, Emergency, One Step Down, and The Bayou, to name a few. Decades before luxury condos abutted trendy restaurants and national retailers gentrified Georgetown, bohemian M Street was dotted with music halls that could rival Bourbon Street. Today, with the price of real estate and prohibitive zoning restrictions, only a fraction of local businesses survive, and all other live music clubs have long since headed for the hills.
Enter Harry Schnipper, not a legendary musician or renowned artist. In fact, the real estate lawyer might seem at first to be the least likely savior of a musical tradition in Georgetown.
But savior he is. As Blues Alley's Executive Director (and only its third owner), Schnipper is as passionate about bringing "all things jazz to Washington" as he is about preserving America's "last club standing", the nation's oldest continuing jazz supper club. Everyone knows there's no substitute for live entertainment in an intimate setting. Getting "cheeks in the seats," as Schnipper bluntly puts it, may not seem hard when you can boast a historic roster of concert hall musicians that includes Dizzy Gillespie, Sarah Vaughan, Nancy Wilson, Grover Washington Jr., Miles Davis, Ramsey Lewis, Stanley Turrentine, Charlie Byrd, Maynard Ferguson, Eva Cassidy, Ahmad Jamal, Wynton Marsalis, and coming up this month, Dave Brubeck.
Image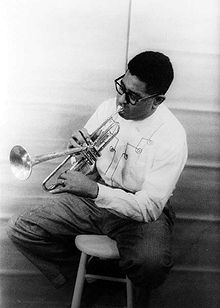 But it is hard. As all Georgetown business owners know, the extra layers of laws and regulations in Georgetown, not to mention its tricky narrow streets and premium parking, can make running the simplest business challeging. Take it from Schnipper, running a jazz club in an age of Twitter, iPods and Miley Cyrus hits is not simple.
Lucky for Blues Alley, Schnipper is a property and tax expert. And he needs to be. While Blues Alley is a national jazz treasure (one renowned around the world), it faces a myriad of challenges just to keep the lights on.
Zoned "waterfront redevelopment" when it was established, Blues Alley is indisputably commercial, and definitely not on the water. This tavern-slash-restaurant-slash-entertainment establishment has enough licenses in precarious shape -- with the associated fees and legal expenses -- to make the average business owner run across Key Bridge to business-friendler territory.
Not only that, the diminuitive club's main competitors are tax-free and government-subsidized venues: the Kennedy Center and Smithsonian, both nonprofits, which have also received considerable amounts of corporate underwriting to expand their jazz programming in recent years.
Up for renewal and before an ANC vote in six weeks is Blues Alley's public hall license (allowing it to offer live entertainment), the only one in Georgetown. But restrictions in this outdated class of license make it difficult for Blues Alley to qualify today. Example: 400 parking spaces are required for a 300+ seat venue.
But Schnipper is hopeful that community support and the leadership of D.C. Council member Jack Evans will result in the renewal of the same license Blues Alley has held since 1964.
Musicians and fans can't say enough good things, including trumpet virtuoso John Birks "Dizzy" Gillespie (above right), who sings the praises of this unique and increasingly lonely jazz venue.
The good news is, these days, it's more than just a club. Besides the Georgetown landmark and legendary jazz stage, there is a Blues Alley Orchestra, a Summer Jazz Camp, and this year, the Blue's Alley Society's 6th Annual BIG BAND JAM!
They're all here, and April is Jazz Appreciation Month (JAM).
BIG BAND JAM! is the only jazz festival in America specifically created "by kids, to kids, for kids, and from kids." Artists as diverse as vocal, fusion, straight ahead (Count Basie-style big band), Dixieland, and big band all play over a 10-day period at venues around town. This year's festival runs April 16–25 and includes performances by the Dave Brubeck Quartet and a tribute to Ella Fitzgerald.
Image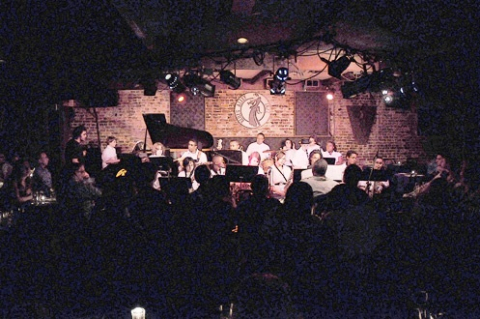 Serving as the area's jazz ambassadors, the Blues Alley Youth Orchestra (shown above) is modeled after and named for its internationally-renowned namesake. Now in its twentieth year, these accomplished musicians age 11 to 17 perform at such mainstay venues including the Kennedy Center, Smithsonian, National Theater, East Coast Jazz Festival, Wolf Trap and Carter Barron Amphitheater -- the last of which also serves as the summer home of the Blues Alley Youth Orchestra. Each summer over a five-week term, youth from all over the city come to learn, share and grow through jazz education and further perform on some of the city's most prestigious stages.
The Blues Alley Summer Jazz Camp for kids is a free program that benefits children the children, the community and the city through a series of public performances at Farragut, Franklin and McPherson Squares, Blues Alley and the annual culminating concert at Carter Barron.
Who'd have thought all of this art and music, especially for young people, could come from a modest set of carriage houses in an alley in Georgetown? Talk about Stardust.
Read more about Blues Alley Society, Blues Alley Jazz Supper Club, and the 2010 BIG BAND JAM.
Image
No photographs are allowed during performances, which explains why so many artists (like Eva Cassidy pictured above) have posed for their "LIVE at Blues Alley" album/CD covers beneath the club sign of this historic converted carriage house.