At-Large Council Candidates Spar in Georgetown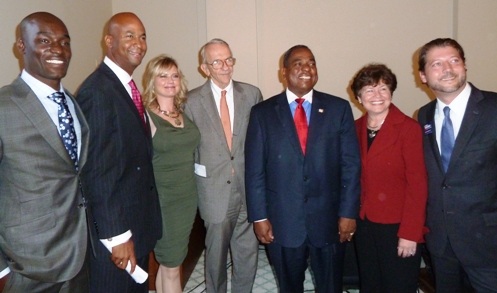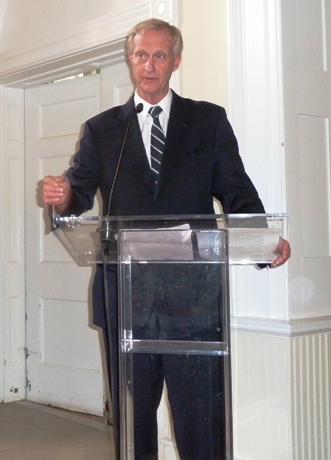 A small gathering of voters and media people were on hand at St. John's Episcopal Church in West Georgetown Thursday afternoon to hear four candidates for the DC City Council give it their best shot for votes. Two were incumbents, Democrat Vincent Orange and independent Michael A. Brown, two were challengers, Republican Mary Brooks Beatty and independent David Grosso. Because voters have two picks in November, half of these aspirants are predicted to make it to the Wilson Building next year. However, Orange, because he's the lone Democrat in a city that's overwhelmingly Democratic, he's virtually assured of victory. This leaves Grosso and Beatty effectively focused on Brown.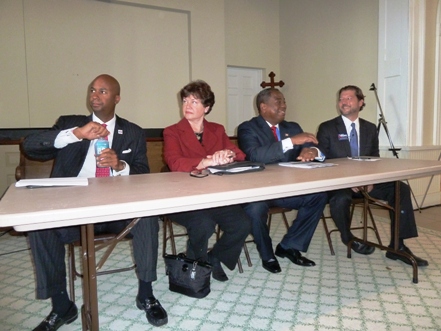 Ward 2 DC Councilmember, Jack Evans (running with no opponents in November) told the group that it was a very important time for the city. "With 1.2 billion dollars in savings, we are the development envy of everyone across the country." With that, he encouraged everyone to focus on education, affordable housing, safety, finances, and health care. In closing he urged that we ensure that everyone has access to jobs.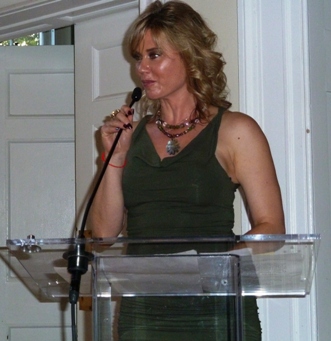 Janine Schoonover of JSW Group introduced the panel of four candidates and the forum's moderator, Davis Kennedy of The Current Newspapers who asked the candidates questions on behalf of the audience and media present: The Georgetowner, The Georgetown Patch and The Georgetown Current and The Georgetown Dish.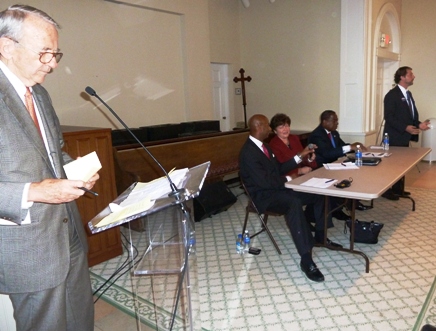 Brown proudly portrayed himself as the "leading advocate in defending the social service safety net," for housing, jobs and food stamps for the city's less fortunate. Grosso stressed he would "really dig into" legislation with hearings and oversight activities. Beatty said the Council "needs the fresh blood [of a Republican to] keep an eye on things." And Orange appealed to Georgetown voters by pointing out "I'm always here," at business and community meetings and siding with residents against the Georgetown and American University campus plans.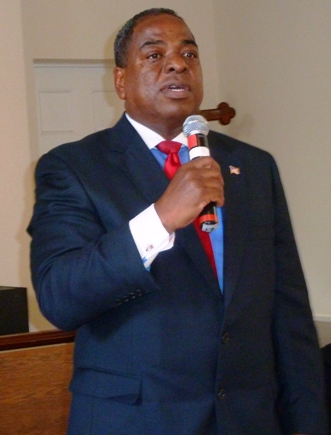 The sharpest disagreement of the afternoon was over the proposal to ban outside income and employment for councilmembers, and thus make them fulltime legislators. Brown was alone in firmly defending his present part-time status, claiming that he in fact "treats it as a fulltime" job, going to meetings and events from early morning till late at night "seven-days-week." This, however, is "confusing fulltime campaigning with fulltime work," Grosso retorted.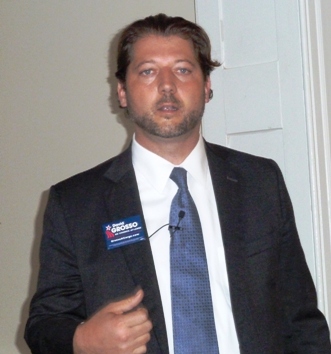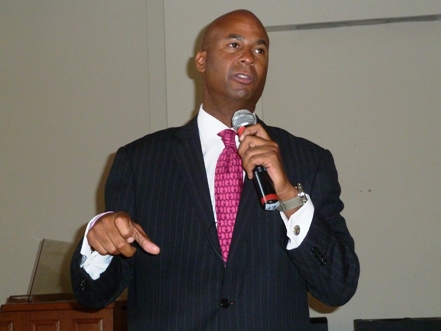 Brown's public problems with campaign funds and other financial and legal questions were mentioned only indirectly by Beatty and Grosso. The latter brought up the case of a copy business in the Convention Center that included Brown and that is still in court. Brown was also the only one to say who would get his second vote--his council colleague, Orange.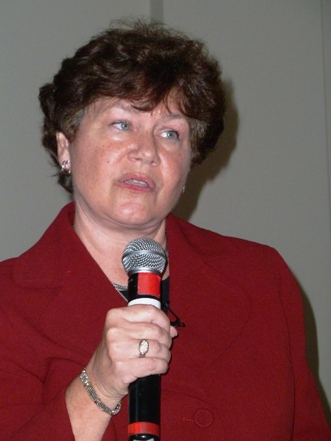 The future of the Whitehurst Freeway and of Duke Ellington High School were the main Georgetown-centered issues. Brown said he was against tearing down the Freeway. "I can't even imagine what Georgetown would do" without it, he said as the audience applauded. And Grosso suggested moving Ellington to create a "high quality high school" on the site to attract the children of families moving into the District.
Other candidates on the November ballot, Ann C. Wilcox, Statehood Green Party and Leon J. Swain, Jr. and A. J. Cooper, independents, didn't make the cut for the forum, apparently because they did not meet the fundraising threshhold.
Following the debate, refreshments were served, courtesy of Kafe Leopold. The event was organized by JSW Group and OtimWilliams.