Kitty Kelley Raises Funds to put Library in the Pink with New Book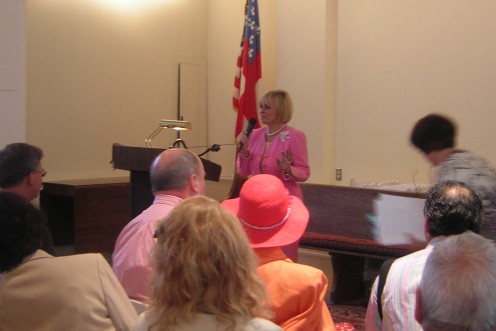 Kitty Kelley may be under fire for her controversial new book Oprah, A Biography, but you would never know it from the adoring reception she received from friends, neighbors and longtime fans in a packed St. John's Church book signing to benefit the Georgetown Library.
Kelley was as stylish and sparkling as ever, wearing a bright pink pantsuit. "You can ask any question except my weight," she teased the audience of about 150, including the Library's Jerry McCoy and supporter Frida Burling (pictured below left). Kelley filled her
Image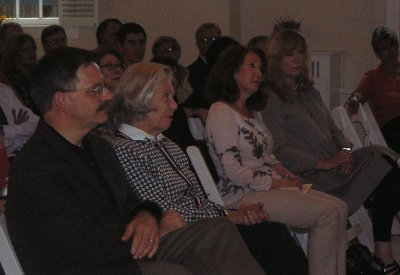 remarks with jokes and asides before taking a number of questions, including those of a Danish TV network, which brought a camera crew.
"People say, 'how dare you write about Oprah??'" Kelley said. "Well, this is the first biography in 20 years of the most powerful woman on the planet. I started out with a great deal of care and respect for her in taking on this project, and I finished with a great deal of care and respect."
The book was a tough sell to publishers, she said, and it's been challenging to market to the
Image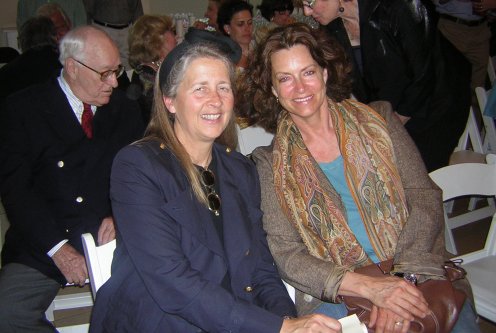 mainstream media due to Oprah's enormous influence on the industry.
Kelley's books inevitably cause controversy. "For many years I've thought that writing something 'unauthorized' sounded a bit like 'breaking and entering,' and that you might not get to the same corner of heaven as [authors like] Michael Beschloss or Doris Kearns Goodwin. But I don't want to live in a world where all the information I get is 'authorized,' and I don't want you to live in that kind of a world either."
The audience cheered. Savvy business woman and strong supporter of Georgetown and its beloved library that she is, Kelley moved the conversation into the fundraising. "Let me take your questions, let's hoist a glass, and then let's sell!"
Pictured above right, Deb Johns and Patrice Miller.