Kitchen Revolutionaries Fêted at Liaison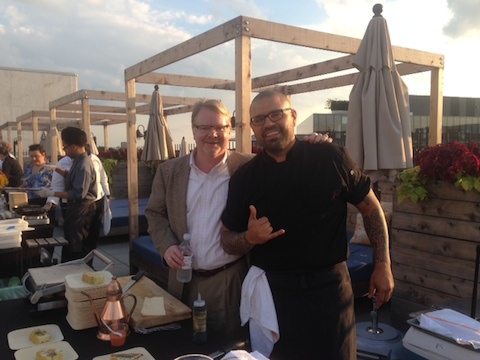 Well-known chefs, smartly-dressed PR pros, tat-covered biker boys and models handing out cocktails breezed around the pool on the roof of the Liaison Hotel near Capitol Hill at sunset Thursday.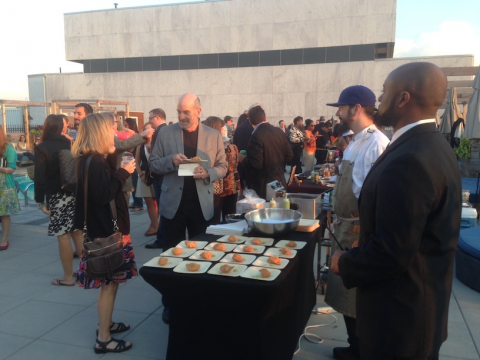 But the hip looks and trendy eats were just part of the scene. The party was to celebrate the launch of The Food Fighters, a new book chronicling the first 25 years of the local revolution known as the D.C. Central Kitchen.
It started when Robert Egger, a military brat who became a bartender at the Child Harolde and Charlie Byrd's in the 1980s, reluctantly agreed to serve on the truck on an evening run of the "Grate Patrol," an initiative of downtown's Grace Church to feed the homeless.
The experience, while frustrating, led him to drop his plans to open a new nightclub he was sure would change the D.C. landscape. Instead, his high-voltage energy turned to the creation of D.C. Central Kitchen -- imbued with a leather-jacket, tough-talking rebellious spirit -- that would become a signature D.C. institution and one of the most innovative efforts to help the city's most desperate, lost and forgotten souls.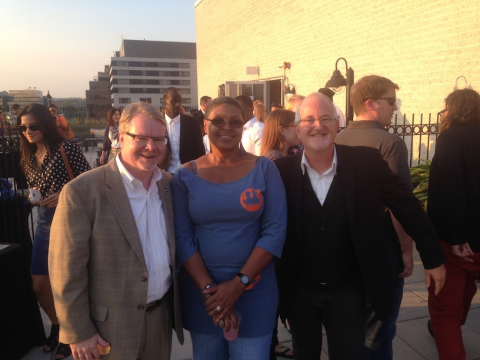 Marianne Ali, originally from Lanham, was an IV heroin user on the streets for 20 years before she hit the very bottom. Finding her path back to health on a stop-and-start journey that led to a culinary degree in the early 1990s, she is now Director of Culinary Training Programs at the "Kitchen," as its known, helping hundreds of former convicts and homeless men and women each year get the life and work skills they need to begin careers in food service.
With the help of 15,000 volunteers, donations of food from the restaurant community, and funding from grant and individual donations, the Kitchen now serves 10,000 meals per day and trains hundreds of the city's most vulnerable residents to get back on their feet through housing, substance abuse recovery, and skills and jobs training programs.
But as he describes the Kitchen's work, CEO Mike Curtin, a Gonzaga College High
School and Williams College graduate, dismisses the usual language of charity and good works. "We want people to
understand that the traditional idea of charity is an old model," he says. "If people are going to part with their money, we want them to think of it as an investment in the community."
In The Food Fighters, author and DCCK Chief Development Officer Alex Moore says thinking differently is the key to the Kitchen's turbo-charged growth from its home in founder Egger's beat-up Ford Econoline van 25 years ago.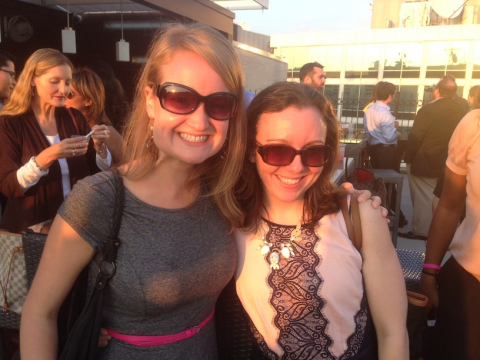 "The story shows what people can accomplish as volunteers," he says. "We can do business differently. We are a business. It's just that our product is changing lives."
Moore's life, like many of those who work and are trained at the Kitchen, includes some zigs and zags. He was a graduate student with a master's from Georgetown, working on a Ph.D. in International Relations, when he read Egger's book Begging for Change. Moore put his studies on hold, moved back to D.C., and worked his way into a job at DCCK. That was nine years ago. "I never felt more useful than when I was working at D.C. Central Kitchen," he said. " I eventually dropped out of grad school and never looked back."
Moore says the book is about the vision, the mistakes, and the warts of the renegade institution.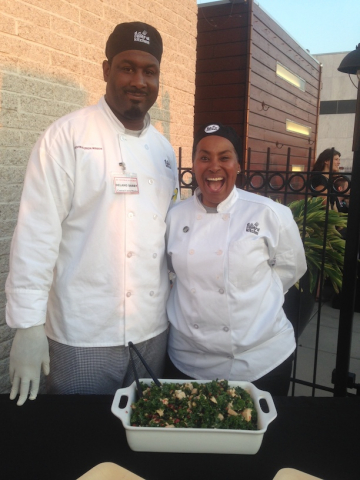 "We want to help people understand how the sausage got made, but also talk about failure in a constructive way," he said. "We don't fix people. All we fix is meals."
But, Moore said, the D.C. Central Kitchen is about "second, third and fourth chances" in life. "We're all flawed, we're all broken," he said. "But we can share our experiences and grow together."
Last week, DCCK celebrated the graduation of the first class of students from Central Union Mission, which offers emergency shelter and recovery programs for homeless men and women. Graduate Lee Hylton, who spent 24 months in prison prior to enrolling in the DCCK Culinary Job Training Program, started work this week at Acacia Bistro on Connecticut Ave. in Van Ness. Other employers of the graduating class include Sodexo at Marymount University and Nando's Peri Peri.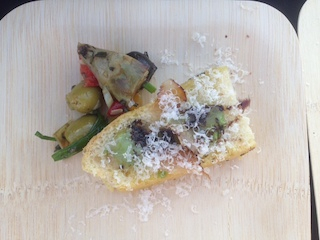 Local chef and Falls Church's Pizzeria Orso founder Will Artley has hired DCCK graduates as permanent team members as well as interns. He started cooking at age 15 and has never wanted to pursue any other career. But that's not what led him to join DCCK's board of directors recently. "They show you that you can come back," he said. "People do make mistakes -- they shouldn't be shunned for the rest of their lives."
Captivated by the health and wellness movements in food service, Artley has lost 135 pounds in the last year, having gotten to the finish line of 11 half-marathons and three marathons. He is now training for his second Iron Man competition.
"My work with the Kitchen has helped me be more forgiving of other people, but also more forgiving of myself," he said.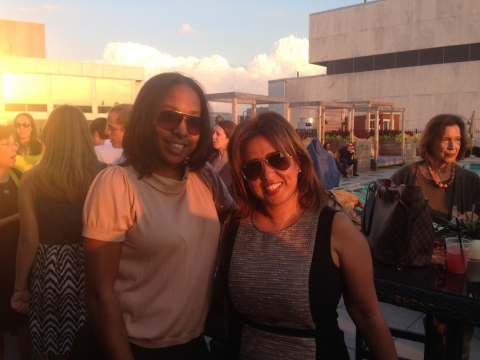 Celebrity chef José Andrés, owner of ThinkFoodGroup and a longtime Kitchen supporter, says "Robert Egger and D.C. Central Kitchen…changed my life, and I have never looked back. Their story" opens a door, he says, "to a new way of thinking about bringing dignity and hope to those in need."
Asked to name her favorite food, DCCK graduate turned Culinary Training Director Ali points to paella, the complex and preparation-intensive Spanish rice dish. "It has so many different ingredients that you have to bring together to get the taste," she says. "It's kind of like the work we do at the Kitchen."
The Food Fighters is available on Amazon. Read more here.
The annual Capital Food Fight takes place Nov. 11 at 6:00 pm. For more information, click here.