Kiss Me Kate: A Dazzling Production at the Shakespeare Theatre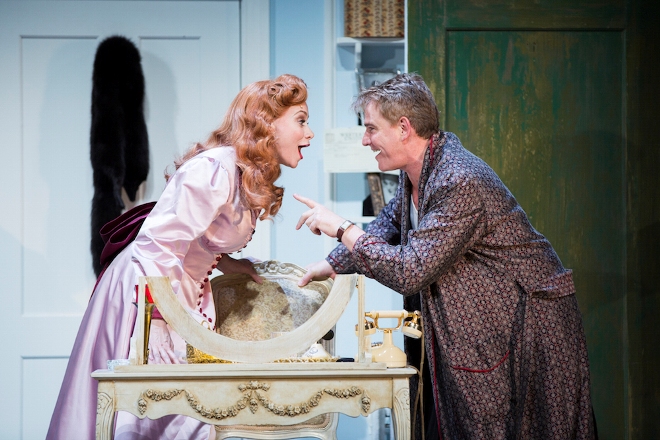 Monday night in the Shakespeare Theatre's Harman Hall I got to see and hear what everyone hopes for when they go to see a Broadway show. Incredible sets, great choreography, great acting, dancing and singing by talented actors all brought together by a young brilliant director. One couldn't ask for more.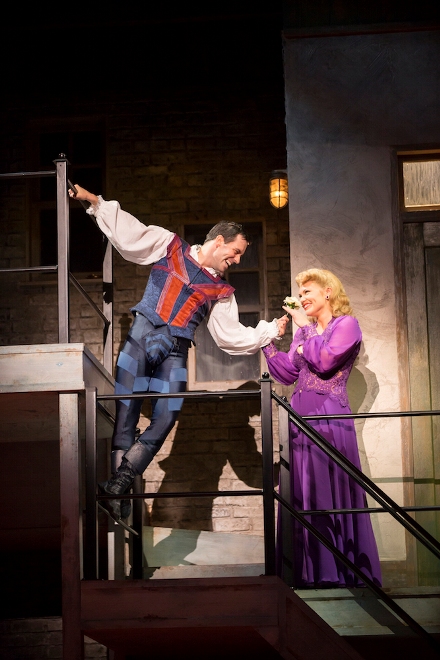 Kiss Me Kate, based on William Shakespeare's The Taming of the Shew is considered by many to be the best score Cole Porter ever wrote and together with writers' Sam and Bella Spewack they produced a masterpiece. Michael Kahn, the theater's artistic director said, "All I can say to the multitudes who have suggested this show to me over the past 29 years is that we waited until the moment was right: until we knew we could do a production that could satisfy us, with a cast that could work wonders with the material. And of course the right director." That has come together in this production as close to perfection as you will ever find.
The choreographer Michele Lynch has found the perfect collaboration with the director and the dance numbers are stunning. Music direction by Doug Peck is wonderful and the set design by James Noone and costume design by Alejo Vietti show off the actors and bring you into both plays, the one onstage and the one behind the scenes, seamlessly in a way that is sure to win them awards.
Let me apologize up-front to any of the twenty-six cast members and members of the production team I don't mention here; they are all fantastic and only lack of space stops me from singling each of them out. Director Alan Paul, who previously directed Man of La Mancha and A Funny Thing Happened on the Way to the Forum at the Shakespeare outdoes himself here. He has assembled a cast that can do it all; sing, dance and act. He then directs them with finesse to perfection. This is a production that should head to Broadway.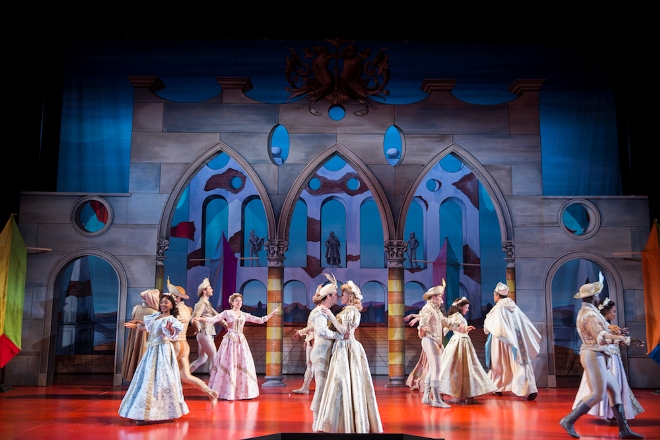 That the cast needs to do it all becomes apparent early. Kiss Me Kate is about a show within a show. The backstage antics of the cast while the show is going on and the actors need to play both parts; their character in the play and themselves as actors interacting with each other backstage. The laughs get bigger when the writers required them to confuse the play and backstage action.
The songs by Cole Porter let the actors shine. Christine Sherrill as Katherine/Lilli Vanessi and Douglas Sills as Petruchio/Fred Graham are superb and can make you laugh and cry on Que. You want them to end up together. Robyn Hurder as Bianca/Lois Lane is breathtaking and gets thunderous applause after every number she dances and belts out. Clyde Alves as Lucentio/Bill Calhoun is wonderful and his dancing is mesmerizing. Hurder and Alves are actually husband and wife in real life.
Again with twenty-six cast members it's hard to single any out but Brandon Bieber as Hortensio/Second Suitor is a talented singer and dancer with an aura about him can't be missed. Con O'Shea-Creal is also a standout and Carl Draper, both because he is the tallest member of the cast and a great talent, has you watching him.
This is a show that has been staged often before but I would suggest never this well. Once you see it you will want to go back again and again because you leave the theater with a smile on your face, humming the songs, and thinking the world is really a great place.
We live in difficult times. A night at the Harman to see Kiss Me Kate will let you forget for just a moment. The show will play through January 3rd and is a perfect holiday gift for all your friends and loved ones.