Kinda back to the future with Y and X dorms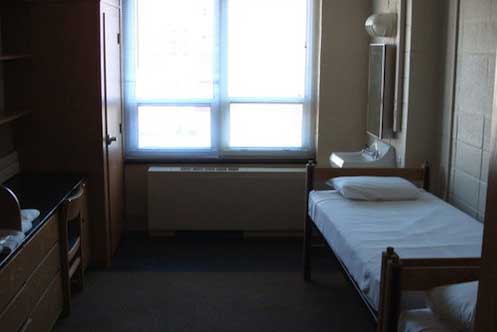 Catholic University's decision, recently announced, to phase out its co-ed dorm arrangements in an effort to curtail binge drinking and casual hookups could raise the specter of how the National Lampoon's "Animal House" filming location is handling rambunctious students nowadays.
Animal House, shot at the University of Oregon, helped make John Belushi into a star. The 1978 raunchy and often tasteless comedy focused on a band of frat house misfits who like to party.
As did many higher learning institutions, the Oregon university once had strict single-sex dorms. If a male maintenance worker had to go into a hallway to fix something in a women's dorm, the intercom would blast out: "Man on floor!"
Times have changed, says Kelly McIver, marketing manager for U of Oregon's housing.
There is no single-gender housing on the campus. But, most of the campus housing is separated by floors, men on one floor, women on another, he said. There is a wing of one residential hall where students can live in a single space--this might include students of opposite gender and gay students.
"In all cases, the housing policy is not an issue," said McIver.
That oh-hum attitude is prevalent.
"…Single-sex dorms will be well received by a majority of the student body at CU, and will make very little difference in the long run" predicted a young, former CU administrative staffer who went on to another collegiate post in the D.C. area.
"They represent what the university is trying to get across. Single-sex dorms fall in line with the Church's teachings." CU has strict rules on even possessing condoms in a dorm room since contraceptives are technically against the Catholic Church's beliefs, relates the source. The punishment could be expulsion, depending on the behavioral history of the individual student.
A Georgetown lawyer, who went to Harvard when it was guys-only, weighs in:
"We had piranha rules. No women were allowed in the room, or you could be tossed out of college or put on probation."
In today's world, "whether mixed sex dorms leads to drinking, I don't know. Would I have wanted to share a communal shower with women, I don't think so."
At a liberal California college, a former female student now in the D.C. area lived in a fully integrated co-ed dorm with both sexes on all floors and communal bathrooms. "It was a bit strange having a guy talk to me from the next shower stall over! I was not very comfortable with THAT level of co-ed," she says.
Although it also is a Catholic institution, Georgetown University's campus housing generally reflects the norm today.
"Residence halls are primarily co-ed by floor; men and women may live on a floor together but not in the same room," says Rob Mathias, GU's communications officer for international and business. Options are available to both male and female students who prefer to live on a single-sex floor, which Mathias says is "most often associated with religious reasons."
But, he added: there are "very few requests from students for single-sex floors after their freshman year."
So, if there's a trend afoot for single-sex dorms, CU is ahead of the pack, way ahead.