Kimberly Casey & Daryl Judy Sell Another Significant Historic Georgetown Home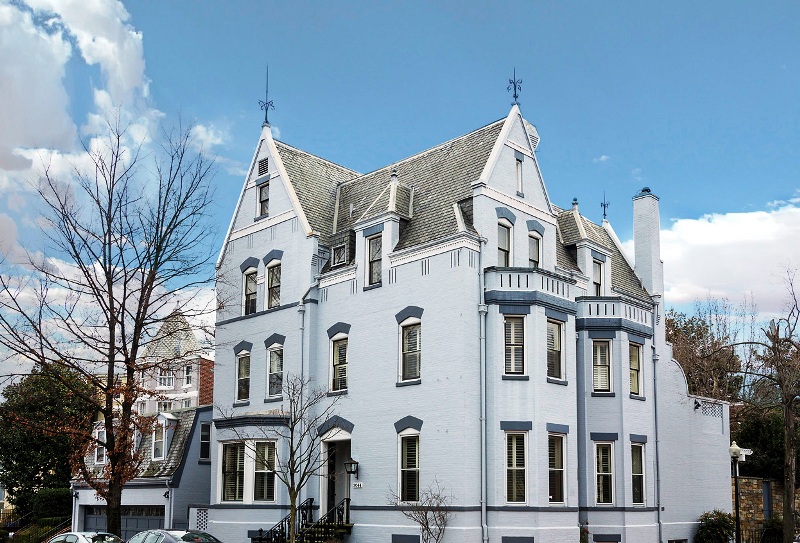 Those go-to agents from Washington Fine Properties have done it again. Kimberly Casey and Daryl Judy just sold another world-class property with Presidential provenance and more than a dollop of Georgetown history: the former Georgetown home of Jacqueline Bouvier Kennedy's parents, Hugh D. and Janet Lee Auchincloss.
This is what Casey told The Georgetown Dish, "The search for a home of this scale, provenance and grandeur in a prime location takes time as they are so rare and most of these properties never make it to the market publicly. The buyers could not be happier and it has been my sincere privilege to help them in the process to make their dream a reality. Further, the fact that there have been three sales in Georgetown over $7 million this year, where there were only two all of last year, says a lot about the confidence in our market."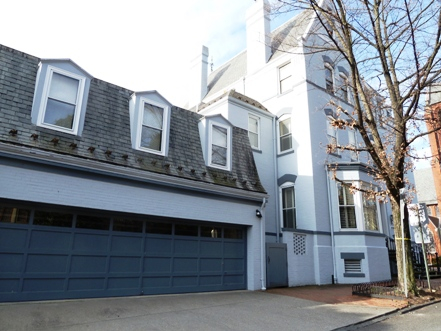 The story of 3044 O Street begins in 1874 with its architect, Dr. Armistead Peter, a physician, and descendant of Georgetown's first mayor Robert Peter (also owner of Tudor Place). Peter's wife, Martha Custis Kennon, was a great-great-granddaughter of former First Lady Martha Washington.
Built in 1870, the 10,736 square-foot, three-and-a-half-story, Queen Anne-style mansion features a large drawing room, dining room, and kitchen on the first floor, nine bedrooms, seven (originally six) bathrooms and twelve fireplaces.
The building is designated as a contributing property to the Georgetown Historic District, a National Historic Landmark listed on the National Register of Historic Places in 1967.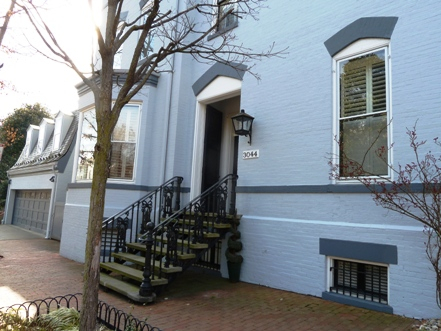 Next residents after the Peters were Georgetown attorney Louis Mackall and his wife, who sold the property to the Auchincloss family in 1962 for $160,000.
What sold the First Lady's mother on the place was its "lovely deep garden with a heavenly silver maple."
Causing quite a stir, and one of the first changes the Auchinclosses made to their new home was to paint the red bricks yellow, or as Janet preferred to call it, "buff."
The President and Jackie were there for a cocktail party in May of 1963 to celebrate Jackie's new social secretary, Nancy Tuckerman and to wish outgoing secretary, Letitia Baldridge a fond farewell.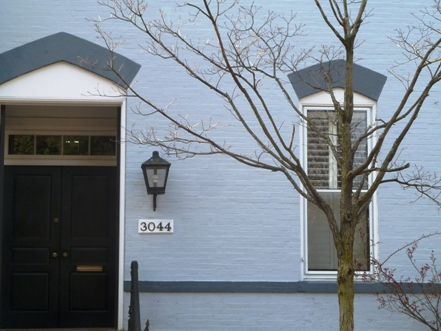 Only a few months later, 3044 O Street was the haven Jackie sought with Caroline and John after the assassination.
In 1979, the Auchinclosses sold to Jennifer and Laughlin Phillips. Phillips was a philanthropist, former CIA officer, founder of the Washingtonian magazine, and former museum director and board chairman of The Phillips Collection, which was founded by his father Duncan.
Another six degrees of presidential separation came in 2000 when former First Lady, Hillary Clinton considered purchasing the home following her election to the U.S. Senate in 2000. She later decided on a more secluded property on Observatory Circle.
Donald Roth, former World Bank executive bought the place in 2001 for $3,750,000 (Sotheby's International Realty list price was $4,395,000).
Closing price in $2013 is $8.6 million. And who are the new owners? Stay tuned.