Kids Take to Foxhall Tennis Camp as Summer Starts to Swing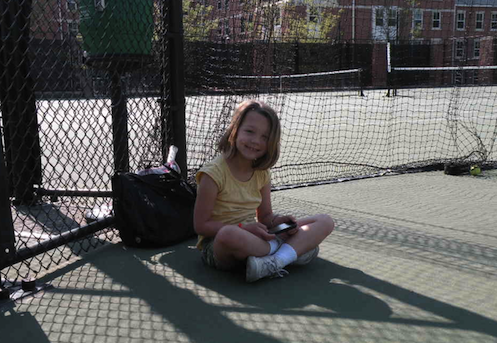 Much closer than the Chevy Chase Club or Congressional, the sparkling new George Washington Tennis Center in Foxhall is offering weekly tennis camps at reasonable prices in an exclusive setting for area children.
"You get there at 9:30, you warm up with laps and the agility ladder, and then we're into it,"
Image
says Sam Hanson, 10, a Landon student and up-and-coming player at the low-key club. "This year Greg said I might be in the advanced group," Sam says, referring to the Center's director, Greg Munoz, who is also head coach of the George Washington University Men's Tennis Team and previously coached at Georgetown Visitation and Johns Hopkins.
Tennis camps run seven days a week for a total of 12 weeks during the summer. There are discounts for sibling sign-ups and multiple week enrollment. Inspired by Munoz as well as club coach Mustafa Ulukan, Sam says, "I've been hitting with my Dad since I was three years old. I've been playing in this clinic, I believe since 2006. I love it."
The club offers weekly summer clinics and camps for all kids. Ages three to 17 are welcome. There is a 10% discount for additional siblings, as well as a 10% discount for GW faculty and alums. No membership required.
Image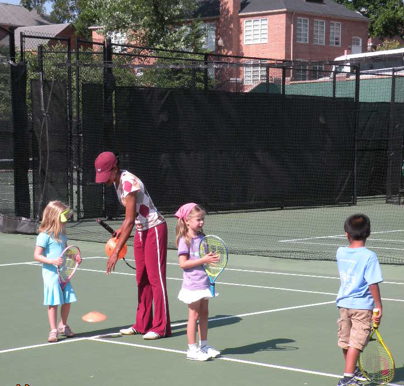 Prices are so reasonable, many seem to be flocking to the club, and building their summer schedules around it. "It's very friendly and laid back, there's no pretentiousness about it. They're really good about movitvating the kids to play and enjoy it," said Sam's mom Annie Hanson, whose daughter Hannah, 7, is also enrolled in the summer tennis camp.
She is joined by GW alums Alex and Mark Neustadt, who have been in the area since their college years and have all three kids -- Thomas, Carla and Guilia -- enrolled in summer tennis camps.
"It's just so much fun because everyone can play. We play doubles with our friends, and our oldest is on the USTA junior team," said Alex, a marketing executive. "I love sending my kids there after school, because I know if they're up there I don't have to worry about anything."
Neustadt says a side benefit is that her kids are exposed to children from other schools.
For his part, Sam Hanson sees the benefit of tournament play. "I like playing matches, because
Image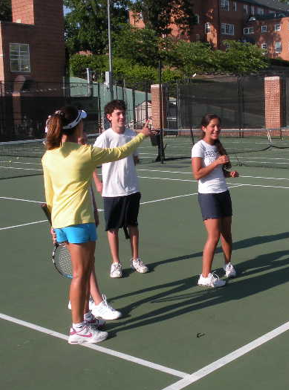 you know how long it's going to go on. When you're just hitting, you don't know when a new drill is going to start or what will come next." He prefers singles to doubles, due to the intensity. Favorite players? Federer, Roddick, Nadal. "I can't believe how fast their serves are," he said. "But maybe I could do that...someday."
There are other benefits. "If you get angry in school, you can take it out on the ball. It relaxes your mind." Hanson adds, "My teacher in fourth grade also teaches our fifth grade team. I learned a lot from her."
Clinics include the ABC's of tennis - preparation, contact, follow-through. Juniors learn the basics of the game, including sportsmanship and scoring. They hone in on basic strokes and racquet control.
The "Emphasis is on FUN," says the club's literature, describing an atmosphere parents appreciate.
"I have my kids there because it's a very easy place to have kids involved, it's close, and they're very welcoming of children," said Neustadt. "I've kept my kids in the program because the instruction they have gotten is really phenomenal."
The Tennis Center was established in 1970 by Mount Vernon College, drawing famous Georgetown players like Art Buchwald and coach Kathy Kemper. Totally renovated with sparkling new courts, gazebos, and access to coaching and ball machines, the club was voted "Facility of the Year" by the United States Tennis Association in 2009.
The club has 11 cushioned hard courts, six lighted courts, free ball machine use for members, a hitting wall, and a pro-shop including racquet stringing and repair. Monthly tennis socials complement an active ladder and beloved coaches, including the Center's Director Munoz. "I love what I do," said the New York native, who played competitively for Binghamton University. "I wouldn't want to be anywhere else."
Read more about summer camps and the George Washington Tennis Center here.