Commentary
|
September 27, 2022
|
Kenyan McDuffie for DC Council-at-Large
Candidate helping grow the local economy with a stronger focus on supporting small and minority-owned businesses.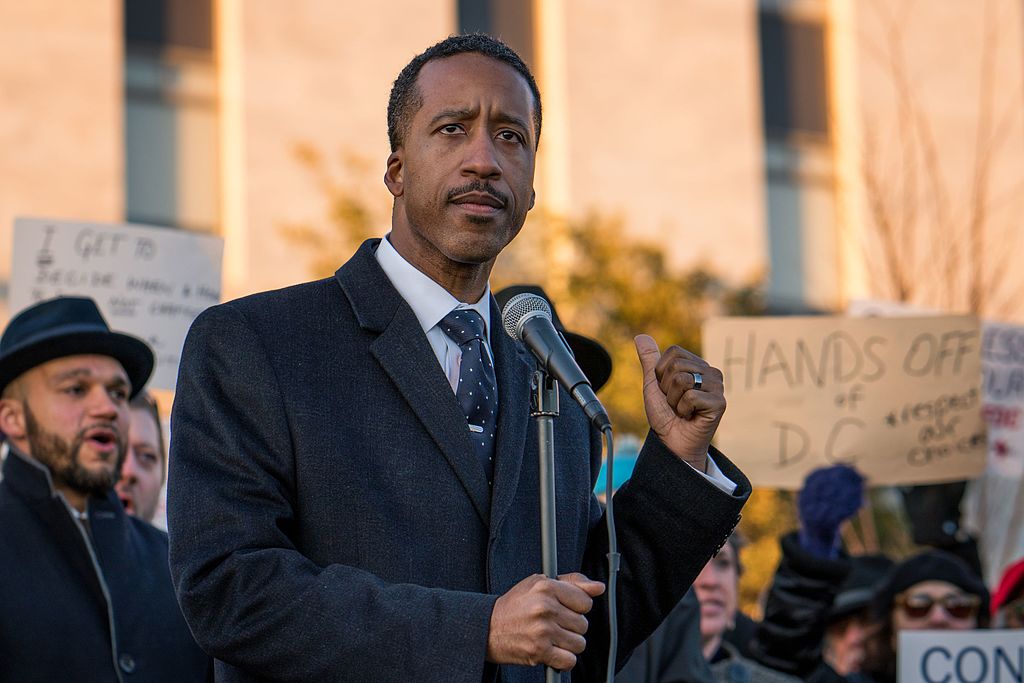 Kenyan McDuffie is a voice of reason, and a voice for progress, on the DC Council. He has been a voice for those without one, and for minority communities across the District. 
Kenyan is a fourth-generation Washingtonian raised in a working-class family of six.  He attended Shaed Elementary in Edgewood, St. Anthony Grade School in Brookland, and graduated from Woodrow Wilson Jackson-Reed high school, having played varsity basketball. He has been a union member working as a mail carrier for the U.S. Postal Service. His college career began at the University of the District of Columbia which he continues to strongly support. He transferred and graduated summa cum laude from Howard University with a Bachelor's Degree in Political Science and Community Development and then joined the staff of Congresswoman Eleanor Holmes Norton. He left there to attend the University of Maryland School of Law, where he was an editor of the law school's Journal of Race, Religion, Gender and Class. After law school he clerked for an Associate Judge on the 7th Judicial Circuit of Maryland and then became an Assistant State's Attorney in Prince George's County. He then joined the Civil Rights Division of the U.S. Department of Justice (DOJ), where, as a trial attorney, enforced key federal civil rights laws in cases throughout the country. His caseload at the DOJ included defending the civil rights of the mentally ill, nursing home residents, persons with disabilities, and other vulnerable populations.
At that point in his career Kenyan added community activist to his resume becoming president of his local civic association and taking a job as a policy advisor with the Deputy Mayor for Public Safety and Justice. In that position he worked with Councilmembers to shape policy and legislation for the District of Columbia.
In 2012, with this wealth of experience, he was elected to DC Council. At that time Lateefah Williams, President of the Stein Democratic Club, wrote in the Blade, "Kenyan McDuffie is the type of leader that Ward 5 needs. He is intelligent, he has key experience in diverse matters from public safety to public policy, and he is a staunch supporter of the LGBT community. These are some of the reasons the Gertrude Stein Democratic Club, D.C.'s largest LGBT political organization, endorsed Kenyan McDuffie for Ward 5 Council.  …and why I personally support Kenyan McDuffie." Her confidence in Kenyan was well placed. For 10 years he has worked to build coalitions and create solutions, tackling DC's most significant challenges. In his first year on the council, he was elected to serve as Chairman Pro Tempore (Vice Chair), a position he continues to hold. 
Kenyan is what those of us looking at legislators call a work-horse, not a show-horse. He has put in the work to bring consensus and pass legislation which he did with sweeping updates to DC's criminal justice laws when he became Chair of the Judiciary Committee in 2017. With that committee he oversaw the implementation of DC's police body-worn camera program, including ensuring the public has fair access to the video footage from encounters with officers. 
Kenyan has a view of public safety that includes both a strong MPD, with appropriate community oversight, and recognition of the need to fully fund community organizations working to reduce crime. Kenyan, like the Mayor, believes we need to do both these things, not one or the other. He recently said, "One of my proudest moments on the Council is passing the "Neighborhood Engagement Achieves Results (NEAR) Act." The law takes a holistic approach to preventing crime in the first instance and floods communities disproportionately impacted by violence with resources – including violence interrupters and behavioral and mental health services – in addition to more innovative, data-driven policing."
For the past five years Kenyan has chaired the Council's Business and Economic Development Committee. His focus has been on helping grow the local economy with a stronger focus on supporting small and minority-owned businesses. He fought to put millions of dollars in the Commercial Acquisition Fund to allow socially disadvantaged business owners to apply for grants to purchase commercial properties here in DC. This became even more crucial as DC rebuilds from the pandemic. Kenyan spearheaded an emergency relief package of $100 million to help the hospitality, entertainment, and retail industries – some of DC's largest employers of immigrants and minority workers – weather the pandemic as best as possible and keep District employees on the payroll. A portion of that money was provided exclusively to restaurants and retailers owned by economically disadvantaged business owners.
For these reasons, and many more, we cannot afford to lose Kenyan's voice on the Council. I urge everyone to cast their vote for Kenyan McDuffie for Council-at-large.