Katherine's Weekly Market Recipe: Salad of "New" Potatoes, Green and Yellow Beans with Lemony-Garlic-Herb Mayonnaise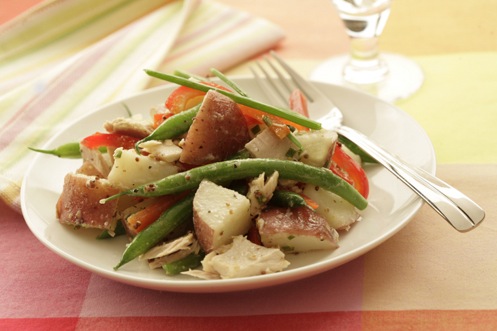 This potato salad has more crunch and color than most, making it impossible to resist. The green beans, bell peppers, tomatoes and onion, are all in season right now, which makes this a particularly delicious, nutritious, and welcome addition to any meal - at home or a picnic with family or friends. The mayonnaise dressing brings out the flavor of any vegetable, especially if allowed to soak into still-warm, just cooked green beans and delicate, small, thin-skinned local potatoes. Make it a main course by topping it with grilled or poached salmon.
Today is the third of "Katherine's Weekly Market Recipes," in The Georgetown Dish, all of which are designed to be delicious, easy, quick, family-friendly, nutritious (heart-healthy & diabetes-friendly), and to highlight produce found at our local Farmers Markets this week. At your Farmers Market, you'll find produce picked at peak ripeness, which means maximum flavor, texture and nutrition. You're also helping save the environment when you buy at your Farmers Market. Here's how...
For this week's "Salad of New Potatoes, Green and Yellow Beans with Lemony-Garlic-Herb Mayonnaise," buy your new or fingerling potatoes, green beans, bell peppers, tomatoes and onions at Wednesday's Rose Park Farmers Market or Sunday's Dupont Circle Farmers Market.
Salad of "New" Potatoes, Green and Yellow Beans with Lemony-Garlic-Herb Mayonnaiseby Katherine Tallmadge, M.A., R.D., author of "Diet Simple" (LifeLine Press 2011)
Serves 6 to 8
Mayonnaise Dressing:
1/4 Cup Mayonnaise, preferably made with Canola or Olive Oil Grated Zest and Juice of 1 Lemon 2 Garlic cloves (or more, to taste), mashed 1 Tbsp (or more, to taste) fresh Tarragon or other fresh herb such as Dill Salt and Pepper, if desired (none needed)
Vegetables:
1 quart Green Beans and Yellow Wax Beans, tough end removed, and cut into 2-inch pieces 1 pint small New Potatoes or Fingerlings with skin, cleaned/scrubbed but not peeled 2 Red Bell Peppers, raw or roasted (if desired) and chopped 1 pint sliced cherry tomatoes or chopped Heirloom tomatoes 1 Bunch (about 4 – 5) Green Onions, or a local "Candy Onion," chopped
Prepare the dressing in a bowl large enough to fit the finished salad. Mix the mayonnaise, lemon, garlic and fresh herb of your choice. Place in refrigerator to keep chilled.
Steam or boil the Green beans and yellow wax beans slightly (in a small amount of water) for about 3 minutes, until they are al dente (firm, but not hard, with resistance to the bite). Drain and immediately toss in ice water to stop the cooking process. Place in the bowl of cold mayonnaise dressing. Toss to coat with mayonnaise dressing. Put the bowl back into the refrigerator to halt the cooking process.
Slice the small potatoes in half or quarters, depending on their size. Boil the potatoes for about 5 or 10 minutes, until tender when pierced by a fork. Drain and place in the bowl with the mayonnaise and green beans. Toss to coat with the mayonnaise dressing. Place in the refrigerator.
Roast the red bell peppers if desired, chop, and add to the mix. Chop the white part of the green onions, cut the cherry tomatoes in half, and place in bowl with the other vegetables; toss.
NOTE: I wait to add the tomatoes at serving time.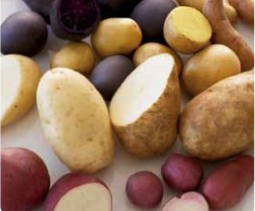 Potatoes
Potatoes have been unfairly maligned. They have been blamed for increasing blood glucose levels, insulin resistance, excess weight and Type 2 diabetes. A recent Harvard study that followed large populations and their disease rates linked potato eating with being overweight, blaming it on the blood glucose rise.
But many foods, including whole-wheat bread and whole-grain cereals, cause similar spikes in blood glucose, and are correlated with superior health and lower body weights. How could the higher body weight in the Harvard study be explained? The study lumped all potato products together, including potato chips and french fries, very fattening versions of potatoes usually eaten in large portions alongside hamburgers, hot dogs, and sodas.
"It's an easy food to attack; but the meal pattern may be the culprit," said David Baer, a research leader at the Agricultural Research Service of the Department of Agriculture. "Other epidemiological studies have not verified a connection between potatoes and weight gain or any diseases, and no clinical studies have shown a connection." Learn more about the Harvard study…
Potatoes are a great source of potassium, Vitamin C and fiber that many cultures – Scandinavians, Russians, Irish, and Peruvians – relied on as a nutritious staple for centuries. And they were not fat.