Katherine's Weekly Market Recipe: Melon Chunks with Crumbled Feta and Fresh Mint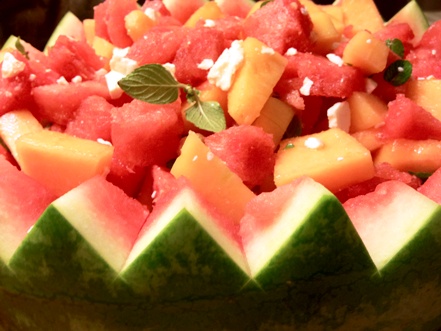 I've been told that this year's peaches and melons are especially sweet and velvety because of the lack of rain. It concentrates their flavor. Whatever! I recommend you quickly run over and buy some at Rose Park's Farmers Market on Wednesday or Dupont Circle's Fresh Farm Market on Sunday - before the season is over.
Though getting the melons home takes a little help from my friends...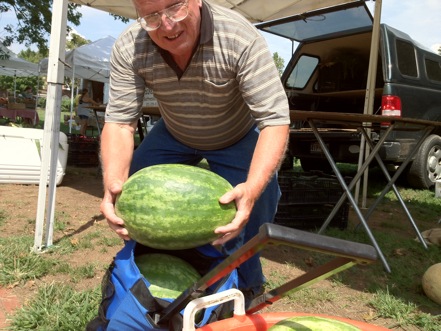 Today is the 4th of "Katherine's Weekly Market Recipes," in The Georgetown Dish, all of which are designed to be delicious, easy, quick, family-friendly, nutritious (heart-healthy & diabetes-friendly), and to highlight produce found at our local Farmers Markets this week. At your Farmers Market, you'll find produce picked at peak ripeness, which means maximum flavor, texture and nutrition. You're also helping save the environment when you buy at your Farmers Market. Here's how...
Melon Chunks with Crumbled Feta and Fresh Mint
By Katherine Tallmadge, M.A., R.D. Author: "Diet Simple: 195 Mental Tricks, Substitutions, Habits & Inspirations" (LifeLine Press, 2011)
This is an unusual combination of flavors and textures, and a delight on the palate. Use any kind of melon that happens to be in season.
Serves 8
2 pounds melon chunks (about 1 small cantaloupe or seedless watermelon) ½ pound Feta Cheese or other similar cheese 8 small mint leaves, Chiffonade (Basil will also work)
Combine ingredients in a large bowl and serve!