Katherine's Weekly Market Recipe: Kjerstin's Chicken Salad with Grapes, Peaches and Walnuts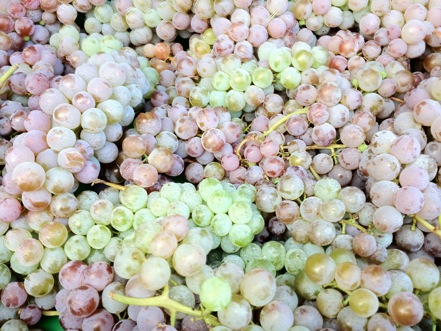 "I didn't know grapes tasted this sweet!" says client after client, after I offer them a taste of locally-grown grapes from Quaker Valley Farm. They are sweet as can be, and so delicate, they could never be found in a store - they're not the hard, sour, traveling variety which passes for grapes these days.
Today is the 5th of "Katherine's Weekly Market Recipes," in The Georgetown Dish, all of which are designed to be delicious, easy, quick, family-friendly, nutritious (heart-healthy & diabetes-friendly), and to highlight produce found at our local Farmers Markets this week. At your Farmers Market, you'll find produce picked at peak ripeness, which means maximum flavor, texture and nutrition. You're also helping save the environment when you buy at your Farmers Market. Here's how...
For this week's "Kjerstin's Chicken Salad with Summer Grapes, Peaches and Toasted Walnuts," buy your grapes, peaches and sweet "candy" onions at Wednesday's Rose Park Farmers Market or Sunday's Dupont Circle Farmers Market.
Kjerstin's Chicken Salad with Summer Grapes, Peaches and Toasted Walnutsexcerpted from "Diet Simple: 195 Mental Tricks, Substitutions, Habits & Inspirations" (LifeLine Press, 2011)
This recipe, developed by my Swedish mother, would make a very nice luncheon offering. Top on a bagette or stuff in a tomato or half an avacado. Serve with pickles, carrot and celery sticks, radishes. Instead of the grapes or mandarine orances, you can use other seasonal fruits such as strawberries, peaches, or anything ripe and in season.
Serves 4
2 cups chicken breast meat, cooked, chopped (about 2 half breasts or 9 ounces)
1 pint Low sodium, nonfat chicken stock
1/3 cup small mild onion, chopped
1-1/2 cup celery, chopped
1 c seedless grapes, halved
2 ripe peaches, chopped
3 Tbsp Fresh Dill, Chopped
3 Tbsp Chopped fresh parsley
1 tsp or more to taste curry powder
1 ounce almonds or walnuts, toasted and chopped
1/4 cup any low fat ranch-style dressing
Poach the chicken breasts in low sodium, nonfat chicken stock until breasts are covered. Let cool and chop in bite-size pieces. Add the rest of the ingredients and chill. Serve chilled.