Katherine's Weekly Market Recipe: Kale & Spinach Gratin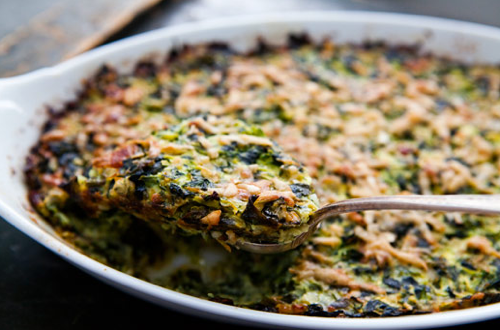 This Farmers Market favorite would be an elegant side dish this holiday season, and amazingly is heart healthy, even being smothered in the classic French Bechamel Sauce. This winter, the greens are particularly tasty and abundant so it's a great time to find recipes making them inviting.
All of my Farmers Market recipes are designed to be, first of all, delicious, but also, easy, quick, and family-friendly. At your Farmers Market you'll find produce picked at peak ripeness, which means maximum flavor, texture and nutrition. For my "Kale and Spinach Gratin with Garlic, Rosemary & Thyme, Smothered in Olive Oil Bechamel Sauce," I recommend you buy the greens, milk, and cheese at the year-round Dupont Circle Fresh Farm Market.
Kale & Spinach Gratin with Garlic, Rosemary & Thyme, Smothered in Olive Oil Bechamel SauceExcerpted from Diet Simple Farm to Table Recipes: 50 New Reasons to Cook in Season!Any greens will do in this versatile recipe.
Serves 6
1 pound Kale, cleaned and stems removed 2 pounds Spinach, cleaned and stems removed 1 Tablespoon Olive or Canola Oil 1 Large Garlic Clove, minced 2 teaspoons fresh Rosemary, chopped (or 1 tsp dry) 1 teaspoon fresh Thyme leaves, chopped (or ½ tsp dry) 1 recipe Olive Oil Bechamel Sauce (see recipe) Salt and Freshly Ground Pepper to taste ¼ Cup Parmesan or Gruyere Cheese, freshly grated
Preheat oven to 400 degrees F. Wash the Kale and Spinach and remove the tough stems. Chop roughly. Heat the oil in a large iron skillet over medium-low heat. Add the garlic and cook until it just begins to color. Add the greens, the rosemary, and thyme to the pan, and let cook a couple of more minutes while stirring until the greens are wilted.
Stir the Bechamel sauce into the greens. Add salt and pepper. Pour into an oiled 2-quart soufflé or heat resistant glass dish and sprinkle the cheese on top. Bake at 400 degrees F for 20 to 30 minutes, or until the top is just beginning to brown.
Olive Oil Bechamel Sauce
This is a classic French white sauce, but using healthy olive oil instead of butter.
Makes 2.5 cups
3 Cups 1% Milk 2 Tablespoons Olive Oil 2 Tablespoons Flour Salt and Ground Pepper to taste Pinch of grated nutmeg (optional)
Simmer the milk in a saucepan on medium-low heat. Meanwhile, heat the olive oil in a heavy skillet. Add a bit of flour, and when it sizzles, add the rest. Stir constantly with a wooden spoon or whisk over medium heat. Do not brown. Whisk in the hot milk. Return the mixture to the heat, stirring until the sauce thickens. Reduce to low making sure it does not burn. Add salt, pepper and nutmeg to taste.
Deep Green Leafy Vegetables have the highest antioxidant content of all vegetables. High in fiber, they are rich in minerals, B-vitamins, beta-carotene, and lutein, a compound which may help reduce the risk of age-related macular degeneration (the leading cause of preventable blindness). Absorption of carotenoids, such as lutein, in your body is increased by cooking and by the presence of fat (so cook in a little healthy olive or canola oil!).