Katherine's Weekly Market Recipe: Greek Salad with Heirloom Tomatoes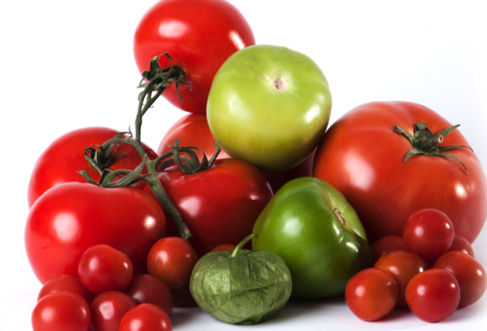 When I was young, one of my most vivid memories is the taste of my Grandmother's vine-ripened tomatoes. Every year, she would grow at least 20 tomato plants -- and only tomatoes -- in her back yard in Columbus, Ohio. They were her favorite vegetable (though technically a fruit), and became mine too. I'll never forget how soft, plump, sweet and deep red they were. Definitely not today's traveling kind. They were the kind you picked and ate, still warm from the day's sun. The kind which you can only get from your own back yard - or the Farmers Market.
Today is the first of "Katherine's Weekly Market Recipes," in The Georgetown Dish, all of which are designed to be delicious, easy, quick, family-friendly, nutritious (heart-healthy & diabetes-friendly), and to highlight produce found at our local Farmers Markets this week. At your Farmers Market, you'll find produce picked at peak ripeness, which means maximum flavor, texture and nutrition. You're also helping save the environment when you buy at your Farmers Market. Here's how...
For this week's "Greek Salad with Heirloom Tomatoes," buy your tomatoes, cucumbers, peppers, onions, and garlic at Wednesday's Rose Park Farmers Market or Sunday's Dupont Circle Farmers Market, which just celebrated its 15th year. Congratulations Fresh Farm Markets!
Greek Salad with Heirloom Tomatoes By Katherine Tallmadge, M.A., R.D. Author, "Diet Simple: 195 Mental Tricks, Substitutions, Habits & Inspirations" (LifeLine Press, 2011)www.KatherineTallmadge.com
8 servings
Ingredients:
Vinaigrette: 2 Tablespoons Freshly Harvested Extra Virgin Olive Oil 2 Tablespoons Freshly Squeezed Lemon Juice (1 Lemon) 1 Tablespoon Chopped Fresh Oregano or Basil (or 1 tsp dried) 1 Clove Garlic, Minced (optional) Salt and Pepper to Taste (Salt is not necessary with the cheese and olives) Vegetables: 2 cucumbers, peeled, seeded and sliced into a half-moon shape 1 onion, peeled and chopped coarsely 1 medium yellow, purple or green bell pepper, cored, seeded, chopped into large bite-size pieces 1 cup pitted Kalamata or other Greek Olives 4 Heirloom Tomatoes, quartered, and cut into large, bite-size pieces
4 ounces Feta or Goat Cheese, broken into small bits
Instructions:
Combine the vinaigrette ingredients in a large salad bowl and whisk until blended. Add the cucumbers, onion, pepper, and olives and toss into vinaigrette. Let sit for twenty minutes to marinate. Add the heirloom tomatoes and cheese when ready to serve.
Tomatoes
Tomatoes are one of the "superfoods." Men who consumed 10 or more servings of tomato products a week had a 35% decrease in risk of prostate cancer relative to those who consumed 1.5 servings or fewer per week. This is largely attributed to "lycopene" in the tomatoes, which is also in other red fruits such as watermelon, pink grapefruit and guava. Men with lycopene levels in the top 20% had a 46% decrease in risk of heart attack compared to those in the bottom 20%. Lycopene is a potent scavenger of gene-damaging free radicals. But don't expect to get it from a supplement. You must eat the tomato as you need the whole food to receive the benefits! Here's why...
If you would like to have one of your recipes highlighted by Katherine in The Georgetown Dish, please email Katherine with your recipe for testing, along with the story behind your recipe. All recipes must be heart-healthy and diabetes-friendly. Send to: Katherine@KatherineTallmadge.com