Katherine's Weekly Batch Recipe: Tastier Than French Fries!
If roasted correctly, this stunning rainbow of vegetables can taste better than french fries. Yes. You heard me! Roasting for the ideal length of time caramelizes vegetables, conveying sweetness and expressing more of their aromatic flavors. They're crispy and golden on the outside with a tender inside. The array of vegetables satisfies your natural urge for a variety of color, texture, flavor and shape, leftover from cave man times, all of which, together, help prevent cravings and provide an array of nutrients, important for survival. Even in today's space age, you still have that instinct for variety. Add a fruit, such as apples or peaches to create more sweet, if you wish.
My fourth weekly batch recipe, based on what you can find at your Farmers Market this weekend (beets, carrots, potatoes of all kinds, broccoli, and brussels sprouts), is Tastier Than French Fries! Roasted Veggies.
Batches are all about making the most of the time you spend in the kitchen and easing some stress from your life. I feature batch recipes in my books, Diet Simple and Diet Simple Farm to Table Recipes. Batches are your favorite delicious, quick and easy meals made ahead of time so that you always have something in the freezer or refrigerator, ready to eat, or serve for guests, on a moment's notice. And, believe it or not, though it may take a little extra time to prepare the batches on the weekends, it actually saves time overall and calms the daily whirlwind of your life.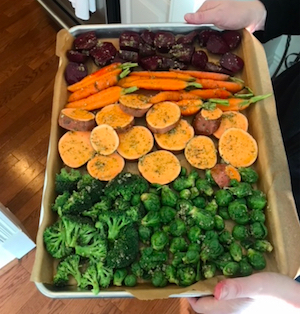 Tastier Than French Fries! Roasted VeggiesBy Katherine Tallmadge
Use this side dish with anything. It creates a colorful, artistic presentation and adds an assortment of flavors, shapes & textures, delightful to all palates. You can also use them cold in a salad, toss them in a soup, or add them to an omelette. They're a great batch; they should last for a week.
Instructions:
1. Preheat oven to 400 degrees Farenheit,
2. Select the combination of vegetables you'd like to roast. Some roast better than others, such as cauliflower, brussels sprouts, carrots, beets, mushrooms, winter squash, tomatoes, onions, eggplant, bell peppers, and of course, we all know about potatoes!
3. Cut the vegetables (and fruits, if used) in similar size pieces so that they cook evenly,
4. Place in a large bowl or plastic bag, add canola oil (it won't burn at a high temperature like butter or olive oil), salt, pepper, and an herb of your choice, such as fresh Rosemary,
5. Toss or shake until all vegetables are coated (but not too greasy). Pour off any excess oil,
6. Place on a cookie sheet or baking pan covered with aluminum foil or parchment paper (prevents sticking to your pan), and place on the center rack in your oven,
7. Roast for 30 to 45 minutes, tossing the vegetables or shaking the pan occasionally to cook evenly,
8. Roast the vegetables until they are golden brown on the outside, but tender in the center - like a french fry!
9. Different vegetables, cut in varying sizes will take a longer or shorter time to reach perfection.