Katherine's Weekly Batch Recipe: Stuffed Shells with Ricotta & Roasted Eggplant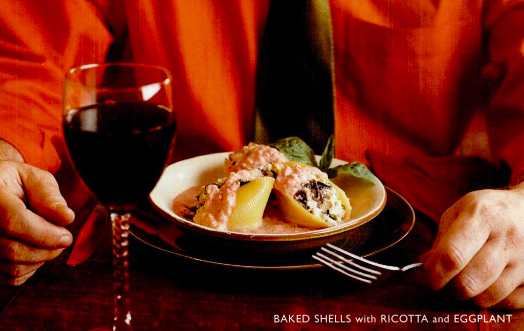 My third weekly batch recipe, based on what you can find at your Farmers Market this weekend (Tomatoes, Eggplant, Garlic, maybe Basil, the Ricotta cheese, and something comparable to Parmesan - do some tastings!), is Roberto Donna's Stuffed Shells with Ricotta and Eggplant. It is featured in my book, Diet Simple, and a gift from Washington's most famous, James Beard Award-winning, Italian chef, Roberto Donna, currently Executive Chef at Al Dente Restaurant.
Batches are all about making the most of the time you spend in the kitchen and easing some stress from your life. I feature batch recipes in my books, Diet Simple and Diet Simple Farm to Table Recipes. Batches are your favorite delicious, quick and easy meals made ahead of time so that you always have something in the freezer or refrigerator, ready to eat, or serve for guests, on a moment's notice. And, believe it or not, though it may take a little extra time to prepare the batches on the weekends, it actually saves time overall and calms the daily whirlwind of your life.
Roberto Donna's Stuffed Shells with Ricotta and Roasted Eggplant
excerpted from "Diet Simple: 195 Mental Tricks, Substitutions, Habits & Inspirations"
This elegant dish, always a crowd pleaser, comes together quickly. Though it may be a little more complex than some of my other batches, it's worth it! Using canned tomatoes and roasted peppers is perfectly fine in this recipe instead of using fresh, to save time. This unique Italian fare makes for an exquisite meal, or appetizer, minus loads of calories. And it can be refrigerated for use later, then re-heated easily with your microwave.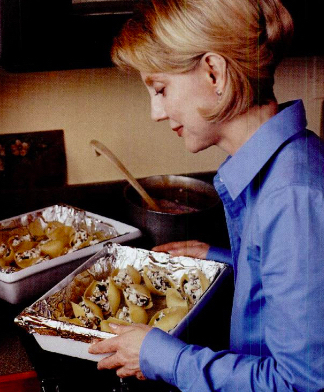 Serves 4
8 oz. peeled and cubed eggplant, sprinkled with 1 Tbs. olive oil 8 oz. low-fat ricotta cheese 2 Tbs. capers, drained (optional) Salt and freshly ground black pepper to taste 12 fresh basil leaves, chiffonade (place the basil leaves on top of each other so they're in a pile, then slice diagonally in thin strips) 12 jumbo shells, cooked, drained and cooled (you may want to boil more than 12, as some will fall apart) 2 Tbs. olive oil 4 Tbs. grated Parmesan, optional Italian parsley leaves for garnish
Olive Oil spray (optional)
*/
Tomato Sauce (as an option, you can use a favorite commercial sauce): 1 1/2 cups canned plum tomatoes, or an equivalent amount of cooked fresh tomatoes 1/2 cup pureed tomatoes from a can, or an equivalent amount of cooked fresh pureed tomatoes 1/4 cup roasted, peeled, seeded red peppers, from a jar/can, or made yourself (optional) 1 garlic clove, minced 4 tbsp grated Parmesan cheese, or other comparable cheese from the Farmers Market
Italian parsley leaves for garnish
1. Preheat oven to 450F, 2. Place eggplant cubes on nonstick baking sheet - if you use parchment paper on the pan, the eggplant will not stick. Roast about 15 minutes until crisp and golden. Remove from oven, 3. Mix Ricotta with the Parmesan cheese, capers, and eggplant cubes in mixing bowl. Season with salt and pepper and 4 chiffonade basil leaves. Set aside, 4. Reduce oven temperature to 400F, 5. Cover baking dish with foil or parchment paper and spray with nonstick vegetable spray. Fill each shell with about 1 tablespoon ricotta cheese mixture, filling evenly among shells until used up. Place the shells on the baking dish. Brush tops of shells with 1 tablespoon olive oil (or spray with olive oil spray). Bake 10 minutes, or until crisped and golden brown at the edges, 6. Meanwhile, to make tomato sauce, purée tomatoes, roasted peppers, remaining basil, rest of olive oil and garlic (or use your favorite commercial sauce). Season with salt and pepper,7. Heat sauce over low heat, just until warm (Roberto says a simple sauce, without overcooking, is the best), 8. Remove and set aside, 9. To serve, spoon one-quarter of the sauce on the dish (use a heated dish, if possible), and place 3 stuffed shells on top. Drizzle a little extra sauce over each top and garnish with parsley leaf and extra Parmesan cheese, if desired. Repeat with remaining shells and sauce. Refrigerate if not using immediately, 10. To re-heat, place 3 shells on top of sauce on microwavable plate or a shallow bowl, cover with a glass bowl and microwave for about 2 minutes,11. If you are serving the stuffed shells as an appetizer, just one shell per plate will do.
Per serving, approximately (depending on the type of Ricotta Cheese you use):
360 calories total fat 17 grams saturated fat 6 grams Fiber 4 grams Protein 12 grams