Katherine's Weekly Batch Recipe: Chocolate-Covered Holiday Treats!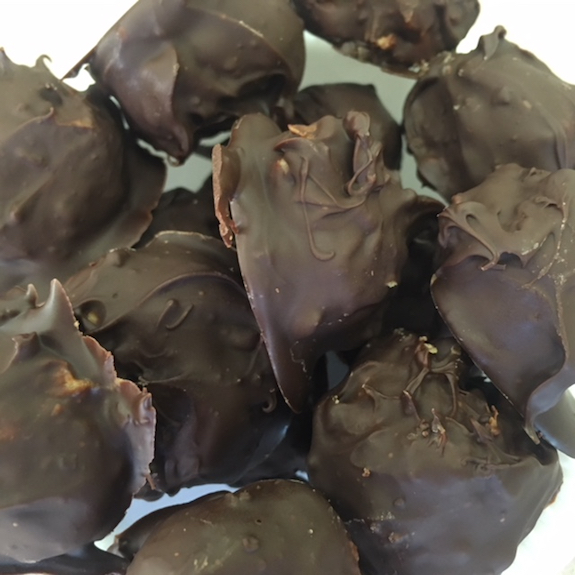 My fifth and final 2018 weekly batch recipe is all about holiday celebrating. This batch is a fun - and messy - activity for children, and adults, of course. They make an impressive gift, or even a dessert or snack for a holiday gathering. They taste like fresh peanut butter cups, but unbelievably ... every. single. ingredient ... is natural and healthful!
Batches make the most of the time you spend in the kitchen and ease some stress from your life. I feature batch recipes in my books, Diet Simple and Diet Simple Farm to Table Recipes. Batches are your favorite delicious, quick and easy meals made ahead of time so that you always have something in the freezer or refrigerator, ready to eat, or serve for guests, on a moment's notice. And, believe it or not, though it may take a little extra time to prepare the batches on the weekends, it actually saves time overall and calms the daily whirlwind of your life.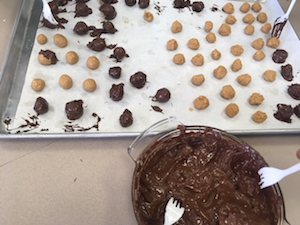 Chocolate-Covered Peanut Butter & Oat Balls
I always at least quadruple this recipe. It's only four ingredients. It's fast. It's simple. These treats are so addictive, they're gone in a flash, so be on your toes!
A Heaping 1/2 Cup of Peanut Butter (or any nut butter you like, such as Almond Butter)3/4 Cup Old Fashioned or Quick Rolled Oats1 Tablespoon Pure Maple Syrup3/4 Cup semi-sweet chocolate chips, meltedNatural, Unsweetened Coconut Flakes (optional)Chopped Roasted Nuts (optional)
Mix oats, peanut butter and maple syrup. Roll into about 12 or more balls (the smaller the balls, the more chocolate on each one!) and place them on a baking sheet which is covered with parchment paper. Freeze about 15 minutes or until set.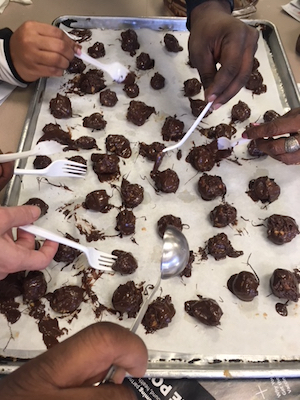 Pull the frozen balls out of the freezer. Roll them in the melted chocolate and, if you wish, sprinkle with chopped nuts and/or coconut. Melt the chocolate carefully to prevent it from burning. Use a double boiler and stir until melted, or use a microwave stirring every 30 seconds until melted.
You may need to heat the chocolate again as the frozen balls may harden the chocolate while you're "working." Once every ball is generously covered and every last bit of chocolate is used up, freeze until the balls are set, at least 15 minutes.
Pull them out of the freezer and enjoy. You can save them in a plastic container in your refrigerator for three weeks. The more you make, the better!
Adapted from Eating Well Magazine.