Katherine's Peach Crisp with Roasted Nuts, Dried Fruit & Ginger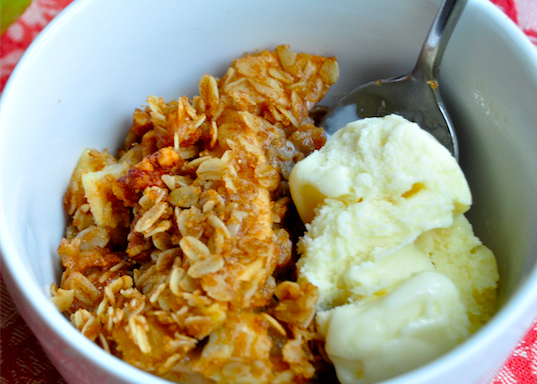 Katherine's Summer Peach Crisp with Roasted Nuts, Dried Fruit & GingerBy Katherine Tallmadge, M.A., R.D.
excerpted from "Diet Simple Farm to Table Recipes: 50 New Reasons to Cook in Season!" ($4.95)
Serves 12
Filling:
½ Cup Pure Maple Syrup ½ Cup Raisins, Dried Cranberries, or a mix of both 2 Tablespoons Fresh Squeezed Lemon Juice 1 teaspoon Minced Candied or Crystalized Ginger, to taste 2 Tablespoons All-Purpose Flour 3 pounds Seasonal, Ripe Peaches, peeled and thinly sliced
Topping:
1-1/2 Cups Old Fashioned Rolled Oats ½ Cup Chopped Walnuts, Pecans, Hazelnuts, any favorite Nut – or a mixture** ½ Cup Brown Sugar 1/3 Cup Whole Wheat Flour* ½ teaspoon Ground Cinnamon 1/3 Cup Walnut Oil, any Nut Oil,** or Canola Oil
Preheat oven to 350 degrees F.
Prepare filling: In a large bowl, mix the maple syrup, dried fruit, lemon juice, ginger, and flour. Add the peaches and mix well. Pour into a 9-by-13-inch baking dish.
Prepare Topping: Mix the oats, nuts, brown sugar, whole wheat flour, and cinnamon. Add the oil and mix until the topping is moist. Pour over the filling in the baking dish.
Bake for 45 to 50 minutes or until the apples are tender and the crumble is golden brown. Let stand for 10 minutes until serving
300 calories per serving.
"Katherine's Summer Peach Crisp with Nuts, Dried Fruits, and Ginger" is adapted from a recipe in "Eating Well" Magazine.
*A whole grain – whole oats and whole wheat flour - has three parts: bran, germ and endosperm. The bran and germ contain fiber, Vitamin E, B vitamins (thiamin, niacin, riboflavin and pantothenic acid) minerals (calcium, magnesium, potassium, phosphorous, sodium, selenium and iron), protein, essential oils, antioxidants and phytochemicals (plant substances that may protect health). The endosperm contains mostly starch with a little protein and very few nutrients. When a grain is refined, turning whole wheat flour into white flour or brown rice into white rice, only the nutrient-poor endosperm is left. The heart-healthy, cancer-fighting riches found in the bran and germ are lost. Learn more about whole grains...
**Nuts – Every time a new study comes out about nuts – any nut – it's positive news. Nut eaters around the world have fewer heart attacks, and we know that most of the protective nutrients are in the oil of the nut. While you already know each nut has a different look and flavor, each nut also has its own unique nutritional characteristics. For instance, almonds are the highest in protein and Vitamin E, and the lowest in artery-clogging saturated fat. Walnuts are the only nut with omega-3-fatty acids. Pecans have the highest antioxidant content. Pistachios contain lutein, a compound which may significantly improve eye health. ALL nuts are good for you. My favorite: Italian Hazelnuts!