Katherine's Market Recipe: Potatoes, Asparagus and Salmon Salad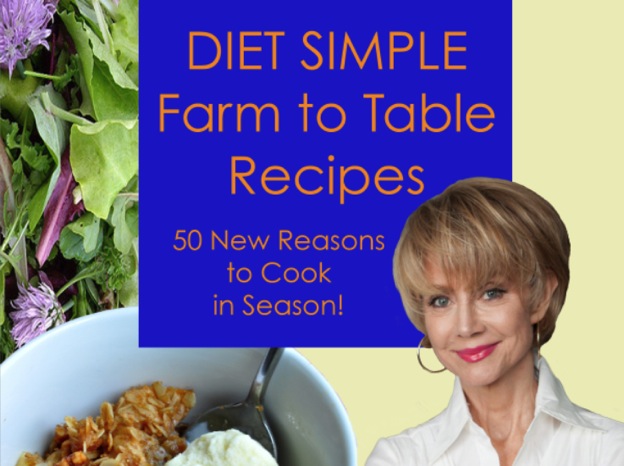 Today is the 4th "Katherine's Market Recipe" of 2013, all of which are designed to be delicious, easy, quick, famiy-friendly, nutritious (heart-healthy & diabetes-friendly), and to highlight produce found at our local farmers markets this week. At your farmers market, you'll find produce picked at peak ripeness, which means maximum flavor, texture, and nutrition. You're also helping save the environment when you buy at your farmers market. Here's how...
I'm so appreciative of the support I get from my clients, friends, and readers, this recipe, and all of my other newest spring recipes can be downloaded and printed FREE from my up-coming "Diet Simple Farm-to-Table" Cookbook. Just let us know what you think of the recipes by posting your comments with The Georgetown Dish!
For my "Salad of New Potatoes and Asparagus with Lemony-Garlic-Herb Mayonnaise Topped with Poached Salmon," I recommend you buy the asparagus at Wednesday's Rose Park Farmers Market, Saturday's Burleith Farmer's Market, or Sunday's Dupont Circle's Fresh Farm Market.
Salad of "New" Potatoes and Asparagus with Lemony-Garlic-Herb Mayonnaise and Poached Salmon www.KatherineTallmadge.com
This "salad"features the best of spring-time food: asparagus, thin-skinned tiny new potatoes and salmon. It can be served warm as a great holiday side dish, or enjoyed cold. The mayonnaise dressing brings out the flavor of any vegetable, especially if allowed to soak into still-warm, just cooked asparagus, haricots verts (the tender French green bean), delicate, small, thin-skinned "new" potatoes, or broccoli. The salmon can be poached, grilled, smoked or cured: your choice!
Serves 6 to 8
Mayonnaise Dressing:
1/4 Cup Mayonnaise, preferably made with Canola or Olive Oil Grated Zest and Juice of 1 Lemon 2 Garlic cloves (or more, to taste), mashed 1 Tbsp (or more, to taste) Tarragon or other fresh herb such as Dill Salt and Pepper, if desired (none needed)
Vegetables:
1 quart Asparagus, tough end removed, and cut into 2-inch pieces 1 pint small New Potatoes with skin, cleaned but not peeled (optional) 2 Red Bell Peppers, roasted (if desired) and chopped 1 pint cherry tomatoes, sliced in half 1 Bunch (about 4 – 5) Green Onions, chopped
Salmon:
2 pounds of salmon fillet 1 Bunch Fresh Dill 1 teaspoon Salt
Place the salmon in a frying pan large enough to hold it laid out flat. Pour cold water over salmon until it is covered. Add salt and dill to the pan. Place lid on the pan. Bring to a boil, then turn off the heat and let sit about ten minutes in the hot water. Remove the fish from the water when the flesh is opaque when checked with a fork. Let cool, if desired.
Prepare the dressing in a bowl large enough to fit the salad ingredients by mixing the mayonnaise, the lemon, garlic and fresh herb of your choice. Place in refrigerator to keep chilled.
In a frying pan large enough to fit the asparagus end to end, steam or boil the asparagus slightly (in a small amount of water) for about 3 minutes, until they are al dente (firm, but not hard, with resistance to the bite). Drain and immediately toss in ice water to stop the cooking process. Place in the bowl of cold mayonnaise dressing. Toss to coat with mayonnaise dressing. Put the bowl back into the refrigerator to halt the cooking process.
Slice the small potatoes in half or quarters, depending on their size. Boil the potatoes for about 5 or 10 minutes, until tender when pierced by a fork. Drain and place in the bowl with the mayonnaise and asparagus. Toss to coat with the mayonnaise dressing. Place in the refrigerator.
Roast the red bell peppers if desired, chop, and add to the mix. Chop the white part of the green onions, cut the cherry tomatoes in half, and place in bowl with the other vegetables; toss.
Serve the salad with about 4 ounces of salmon on top of each serving.