Katherine's Market Recipe: Italian Chunky Tomato Sauce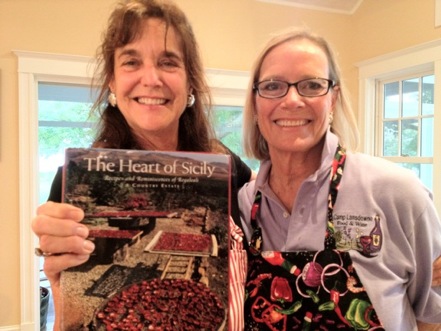 I can't believe tomato season is coming to an end. For tomato lovers such as I, here's a recipe to help you enjoy locally-grown, vine-ripe tomatoes year-round. I've even provided step-by-step pictorial instructions to make it as easy as possible.
Today is the 8th of "Katherine's Market Recipes," in The Georgetown Dish, all of which are designed to be delicious, easy, quick, family-friendly, nutritious (heart-healthy & diabetes-friendly), and to highlight produce found at our local Farmers Markets this week. At your Farmers Market, you'll find produce picked at peak ripeness, which means maximum flavor, texture and nutrition. You're also helping save the environment when you buy at your Farmers Market. Here's how...
I recommend you buy the tomatoes, onions, garlic and basil at Georgetown's own Rose Park on Wednesday, Glover Park - Burleith Farmers Market on Saturday, or the Dupont Circle's Fresh Farm Market on Sunday.
Salsa Pic-Pac(Chunky Tomato Sauce)From "The Heart of Sicily" by Anna Tasca Lanza, adapted and translated by Ann Harvey Yonkers
Ingredients:
1 large red onion, coarsely chopped 2 garlic cloves, minced 1/4 cup olive oil 2 pounds fresh plum tomatoes, peeled, cored, and coarsely chopped* 1/2 cup basil leaves, torn 1 teaspoon sugar salt and black pepper, to taste
Instructions:
Peel the tomatoes by placing them in boiling water for 10 seconds or so. Pull them out of the pot, wait until they are cool enough to handle, and slip the peels off.* Core with a sharp knife.
Chop red onion and garlic. Sautée in the olive oil. Add the tomatoes and cook. Add the basil, sugar, salt and pepper, to taste.
Partially cover the pan and continue to cook 10 to 15 minutes, stirring occasionally. The time it takes the sauce to thicken will depend on how juicy the tomatoes are and how thick you prefer it.
* My Grandmother Tallmadge's tip: Peeling tomatoes easily is done by dropping them into boiling water for about 10 seconds. Pick them out of the boiling water (carefully with a fork or slotted spoon), wait for them to cool down enough to handle, and the peel slips off easily.
Katherine's simple step-by-step pictorial guide to "Italian Chunky Tomato Sauce"...
Ann Yonkers' tip: "If you dont have time to make tomato sauce now, wash and freeze the tomatoes whole in a ziplock bag. Take them out and the skin will slip right off."
NOTE: If possible, use 50 pounds of end-of-season, vine-ripe, locally-grown tomatoes, multiply the recipe by 25 and gather an assembly line of friends to help!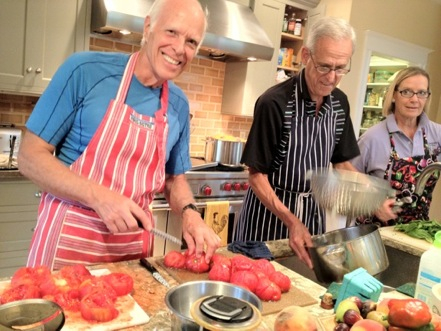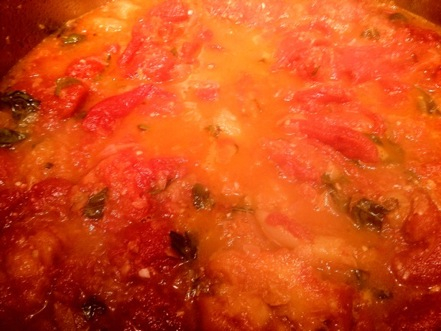 Ann Yonkers, co-founder of Fresh Farm Markets, tested and adapted Anna Tasca Lanza's recipes, careful to preserve the authenticity of the Italian recipes in "The Heart of Sicily," visiting Sicily four times for the project.