Katherine's Market Recipe: Fresh Kale & Summer Peach Salad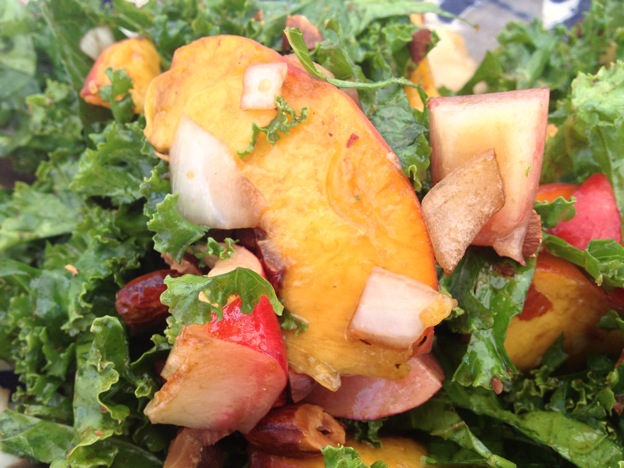 "I don't like kale, but this salad is delicious!" is a comment I hear over and over when I serve this dish. Last year around this time, I was volunteering at an Anacostia Farmers Market. At the time, there was only one produce farmer at the market and all he had the day I was coming was peaches, kale and potatoes! My job at the Farmers Markets is to inspire people to buy the locally grown produce available that day, but what the heck was I going to do with kale, peaches and potatoes? I was stumped! Then I leafed through my own book, Diet Simple: 195 Mental Tricks, Substitutions, Habits & Inspirations, and got inspired by one of Chef Carla Hall's contributions to my book, her "Hearty Greens Salad with Warm Balsamic Cherry Vinaigrette." Aha! I can do a variation on the theme, I thought; use peaches, add some crunch with toasted almonds and VOILA! It was a HUGE HIT at the Anacostia Farmers Market. So I've included this wonderful recipe in my new book: Diet Simple Farm to Table Recipes (Bookbaby 2013).
Today is the 5th "Katherine's Market Recipe" of 2013, all of which are designed to be delicious, easy, quick, famiy-friendly, nutritious (heart-healthy & diabetes-friendly), and to highlight produce found at our local farmers markets this week. At your farmers market, you'll find produce picked at peak ripeness, which means maximum flavor, texture, and nutrition. You're also helping save the environment when you buy at your farmers market. Here's how...
For my "Fresh Kale & Summer Peach Salad with Toasted Almonds & Balsamic Vinaigrette," I recommend you buy the peaches and greens at Wednesday's Rose Park Farmers Market, Saturday's Burleith Farmer's Market, or Sunday's Dupont Circle's Fresh Farm Market.
Serves 6
Vinaigrette:3 Tablespoons Extra Virgin Olive Oil 1 Tablespoon Balsamic Vinegar Salt and Pepper to taste
Salad Ingredients:6 Handfuls of fresh Kale (or other greens), washed, tough stems removed, and torn into bite-sized pieces 2 Cups Fresh Sliced Summer Peaches and/or any seasonal Berries 2 Ounces toasted slivered Almonds, or toasted whole Almonds, chopped ½ Sweet Onion, peeled and sliced
In a large bowl, add the olive oil, vinegar, salt and pepper. Whisk together. Add the kale, onion, almonds, and peaches and toss together. Serve immediately.