Katherine's Market Recipe: Butternut Squash Soup with Curry and Ginger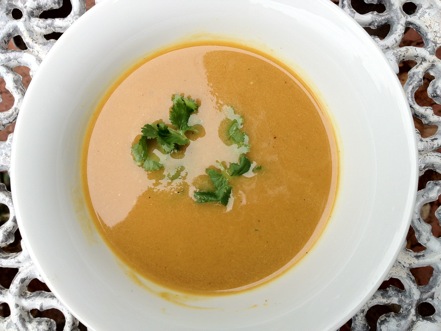 "A 'comfort soup' with just the right spices to make it interesting; my 'go to' soup for the Fall!" says my neighbor, Constance Chatfield Taylor, president of Flying Colors Broadcasts. "Great to serve with h'oeuvres in simple demitasse cups or on Thanksgiving day."
Winter squashes, particularly butternut, are far superior to the summer squashes and zucchini in taste and nutrition because of their deeper color and higher carbohydrate and nutrient content. The most potent squashes are the more deeply colored varieties, especially pumpkin and butternut. Their color is provided by one of the most powerful nutrients: beta-carotene.
Characterized by a chubby bowling pin shape, a buff/beige color on the outside and a deep orange on the inside, the butternut is an exceptional source of beta-carotene, an antioxidant which converts to vitamin A in your body. Beta-carotene is critical for your immune system, your skin, your vision, bones, reproduction, and more. Studies show that people who eat foods high in beta-carotene and people with high blood levels of beta-carotene have a lower incidence of certain cancers. But you won't get the same results with a beta-carotene supplement. Study after study has shown disappointing results with the supplements. So, only the food will do! But that's a good thing for us squash lovers.
Apparently, each squash is a bustling little factory of nutrients and phytochemicals, the plant compounds with potent powers of healing. When acting synergistically in a food, these nutrients provide a more powerful health punch than the individual nutrients alone. Some of the most important nutrients in squash are antioxidants, such as beta-carotene, alpha-carotene and vitamin C, which are powerful substances believed to reduce inflammation, improve immune function and help prevent heart disease and cancers, among other benefits.
But there are other good reasons to eat butternut squash.
Butternut squash is also a great source of fiber (good for your gastrointestinal system), potassium (important for your heart and lowers blood pressure), vitamin C (a great antioxidant important for your skin, bones and healing), magnesium (important for muscle function, the heart, bones, blood clotting, and improves diabetes),manganese (important for metabolism and bone formation) and calcium (important for your heart and bones). And a big plus: it's low in calories, only 82 calories in a cup (7 ounces) of baked squash cubes.
Today is the 9th of "Katherine's Market Recipes," in The Georgetown Dish, all of which are designed to be delicious, easy, quick, family-friendly, nutritious (heart-healthy & diabetes-friendly), and to highlight produce found at our local Farmers Markets this week. At your Farmers Market, you'll find produce picked at peak ripeness, which means maximum flavor, texture and nutrition. You're also helping save the environment when you buy at your Farmers Market. Here's how...
For my "Butternut Squash Soup with Curry and Ginger," I recommend you buy the butternut squash, "candy"onion, and garlic at Georgetown's own Rose Park Farmers Market on Wednesday, the Glover Park - Burleith Farmers Market on Saturday, or Dupont Circle's Fresh Farm Market on Sunday. Incredibly, you can even buy locally grown ginger at the Dupont Circle Farmers Market or other Fresh Farm Market locations from Next Step Produce, Tree and Leaf Farm, The Farm at Sunnyside, Radix Farm and Mountain View Farm. It's simple to preserve this fresh, tender and exquisite ginger so you can have it all year long. Learn how with my step-by-step instructions for Preserving Ginger...
Butternut Squash Soup with Curry and GingerBy Katherine Tallmadge, M.A., R.D.Author, "Diet Simple: 195 Mental Tricks, Substitutions, Habits & Inspirations" (LifeLine Press, 2011)www.KatherineTallmadge.com
About 6 servings
Ingredients:
1 Small Butternut Squash4 Cups Water2 Tbsp Canola Oil1 Cup Chopped Sweet Onion (about 1 medium)1 Clove Garlic, crushed (2 cloves, if you like it spicy)1 tsp Curry Powder (2 tsp, if you like it spicy)1 Tbsp fresh Ginger, about 2 inches, grated (2 Tbsp, if you like it spicy)1 Cup Chicken or Vegetable StockSalt and Freshly Ground Pepper to tasteOptional Garnish: A few fresh Cilantro sprigs per bowl
Cut Butternut Squash in half, lengthwise. Scoop out seeds. Place squash face down in baking pan with 4 cups water. Bake at 350 for 45 minutes or until soft when pierced by a fork. (If you cannot slice a raw squash, as an alternative ... Bake the squash whole, then slice it in half when relatively cool - add the water to the soup pot later...)
While the squash is baking, prepare the aromatic vegetables and spices: Place the oil in a large iron skillet or soup pot on medium-high. Add onions and garlic and fry until golden. Stir in curry powder, ginger, and a pinch of salt and simmer on low for a few minutes.
When the squash has cooled to the touch, pour all the water in which the squash was cooked into the skillet and stir to scrape up the bits of aromatic vegetables and spices. When squash has cooled, scoop out the butternut squash meat, leaving the skin, and stir into the mixture in the skillet. When room temperature or cool, puree the vegetable and spice mixture in a blender or food processor with the broth. Better yet, use my favorite immersible hand blender and puree right in the cooking pot: The Cuisinart Smart Stick... No mess, no fuss!
NOTE: Adjust seasonings by adding more salt, pepper or spices, if desired. Adjust consistency by adding more water or broth. Also, any similar winter squash will work well if Butternut is not available.
The entire pot of soup makes about 6 cups and is about 500 calories