Katherine's Market Recipe: Autumn Apple Crisp with Nuts, Dried Fruit & Ginger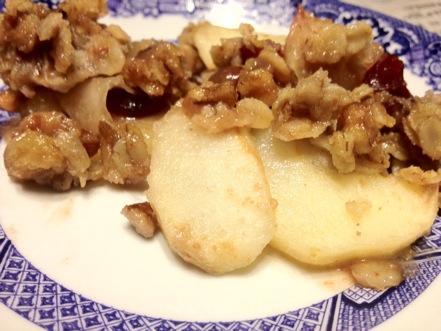 Georgetown's Rose Park Farmers Market is ending its 2012 season today with a Pumpkin Fest (4:30 pm) and Parades (5 & 6 pm) ... Rain or shine! "There is no better place to meet your neighbors, whether they are dog-walkers, moms, dads, tennis players or foodies," said Leslie Wheelock, Founder and Co-Manager. "We're completely staffed by neighborhood volunteers, who sustain the market every Wednesday."
Today is the 11th "Katherine's Market Recipe," in The Georgetown Dish, all of which are designed to be delicious, easy, quick, family-friendly, nutritious (heart-healthy & diabetes-friendly), and to highlight produce found at our local Farmers Markets this week. At your Farmers Market, you'll find produce picked at peak ripeness, which means maximum flavor, texture and nutrition. You're also helping save the environment when you buy at your Farmers Market. Here's how...
For my "Autumn Apple Crisp with Nuts, Dried Fruits, and Ginger," I recommend you buy the apples or pears at Georgetown's Rose Park Farmers Market (your last chance this year) on Wednesday, the Glover Park - Burleith Farmers Market on Saturday, or Dupont Circle's Fresh Farm Market (open year-round) on Sunday.
Katherine's Autumn Apple Crisp with Nuts, Dried Fruit & GingerBy Katherine Tallmadge, M.A., R.D.Author, "Diet Simple: 195 Mental Tricks, Substitutions, Habits & Inspirations" (LifeLine Press, 2011)www.KatherineTallmadge.com
This will become a favorite holiday dessert – delicious, but quick and simple, too. And, heart healthy – using predominantly whole grains and nut oil instead of butter – and filled with fruit and nuts.* This Apple Crisp is very versatile with its main ingredients. Use a crunchy, tart Fall Apple, an Anjou Pear, or a combination of both. Use any dried fruit, your favorite nut, and a nut oil for maximum flavor.
Serves 12
Filling:
½ Cup Pure Maple Syrup½ Cup Raisins, Dried Cranberries, or a mix of both2 Tablespoons Fresh Squeezed Lemon Juice1 Tablespoon Minced Candied or Crystalized Ginger (or less, depending how strong you like it)2 Tablespoons All-Purpose Flour3 pounds crisp, tart Fall Apples, or any apple or pear, peeled and thinly sliced
Topping:
1-1/2 Cups Old Fashioned Rolled Oats*½ Cup Chopped Walnuts, Pecans, Hazelnuts, any favorite Nut – or a mixture*½ Cup Brown Sugar1/3 Cup Whole Wheat Flour*½ teaspoon Ground Cinnamon1/3 Cup Walnut Oil, any Nut Oil,* or Canola Oil
Preheat oven to 350 degrees F.
Prepare filling: In a large bowl, mix the maple syrup, dried fruit, lemon juice, ginger, and flour. Add the apples and mix well. Pour into a 9-by-13-inch baking dish.
Prepare Topping: Mix the oats, nuts, brown sugar, whole wheat flour, and cinnamon. Add the oil and mix until the topping is moist. Pour over the filling in the baking dish.
Bake for 45 to 50 minutes or until the apples are tender and the crumble is golden brown. Let stand for 10 minutes until serving
300 calories per serving.
"Katherine's Autumn Apple Crisp with Nuts, Dried Fruit & Ginger" is adapted from a recipe in "Eating Well" Magazine.
*Learn more about the health benefits of whole grains and nuts...