Katherine's Holiday Market Recipe: Sweet Potato Flan with Vanilla Bean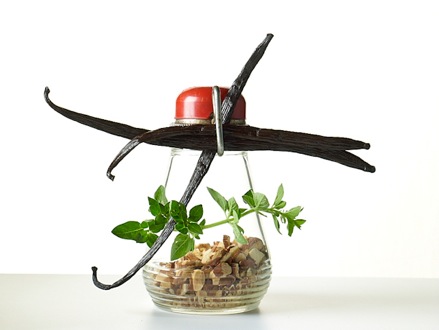 My very luscious version of a "flan," a custard dessert, is lighter and simpler than most, and highlights one of the most nutritious seasonal foods - the sweet potato, and a favorite flavor: Vanilla. The vanilla's quality is essential to the flavor, so I buy special plump, juicy California vanilla beans - the kind top chefs use - from Cook's.** Sprinkle the flan with toasted pecans for a bit of crunch. Make in six or eight "personal" soufflé dishes, or in one large dish. Perfect as a holiday dessert!
Today is the 12th "Katherine's Market Recipe," in The Georgetown Dish, all of which are designed to be delicious, easy, quick, family-friendly, nutritious (heart-healthy & diabetes-friendly), and to highlight produce found at our local Farmers Markets this week. At your Farmers Market, you'll find produce picked at peak ripeness, which means maximum flavor, texture and nutrition. You're also helping save the environment when you buy at your Farmers Market. Here's how...
For my "Light Sweet Potato Flan with Vanilla Bean," I recommend you buy your sweet potato at the Glover Park - Burleith Farmers Market on Saturday, or Dupont Circle's Fresh Farm Market (open year-round) on Sunday.
**Cook's Vanilla
And don't forget the Cook's Vanilla for your Flan and other holiday baking. I first discovered this special vanilla in Georgetown's Griffin Market (now closed). It peaked my interest because former Washington Post food reporter (and longtime Georgetown resident), Walter Nicholls, endorsed it and provided it to Griffin. Apparently, Walter has teamed up with Paso Robles, California's Cook Flavoring Company, a family-owned business. "They personally monitor the cultivation and harvest of its vanilla beans in a way that few can match and no one can exceed, extracting the flavor by the same slow, cold extraction method the family has been using for almost a century," said Walter. The best pastry chefs in town seem to use it: Baked & Wired, Dolcezza, Black Salt, CoCo Sala, CityZen, the Hay Adams hotel and all of Jose Andres restaurants, to name a few. Beans and extract are available locally at Rodman's on Wisconsin Avenue.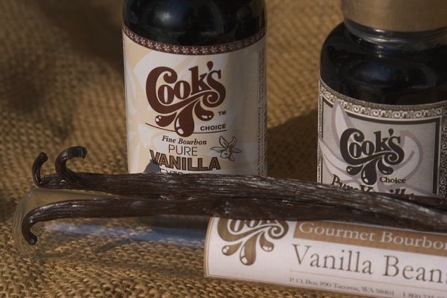 Katherine's Light Sweet Potato Flan with Vanilla Beanwww.KatherineTallmadge.comAuthor, "Diet Simple: 195 Mental Tricks, Substitutions, Habits & Inspirations" (LifeLine Press, 2011)
Serves 6 – 8
Unsalted butter or butter spray for the ramekins*2 Cups 1% Lowfat Milk2/3 cup Granulated Sugar½ Vanilla Bean, halved lengthwise¾ pound Sweet Potato (1 large)2 Eggs1 Egg Yolk1Tablespoon Warm Molasses (Optional)1 ounce (1/4 cup) Chopped, Toasted Pecans (Optional)
Preheat oven to 350 degrees F. Place sweet potato on the oven rack and let cook for about 45 to 60 minutes or until tender when pierced with a fork. Use long tongs to pull out of the oven. When warm to the touch, remove the peel. Mash the potato flesh and measure out ¾ cup.
Turn oven temperature down to 325 degrees F. Lightly butter or spray the insides of 6 or 8 ½-cup ramekins* or a 6-cup glass Pyrex bowl or soufflé dish.
In a medium saucepan, bring milk, sugar, and vanilla bean slowly to a boil, stirring until sugar is dissolved. Turn off the heat. Pull out the vanilla bean and scrape the vanilla seeds into the milk mixture. Return the pod to the pot and let sit for 15 minutes to let flavors blend.
Meanwhile, puree the 2 eggs and 1 egg yolk with the mashed sweet potato (I use a Cuisinart Smart Stick immersion hand blender). Add the sweet potato mixture to the warm milk mixture and puree until well blended – most easily done (and less messy) with an immersion hand blender. For a smooth custard, try not to create too many bubbles.
Pour the liquid into six or eight ramekins, or into the 6-cup soufflé dish. Set the soufflé dish(es) into a large baking pan and add boiling water until it is halfway up the sides of the soufflé dish(es). Place in the center of the oven and bake until slightly wobbly in the middle – about 40 to 45 minutes for the individual ramekins or 1 hour if you're using the larger soufflé dish.
To serve: Leave the custards in the water bath until they are not too hot to handle or until ready to serve. Slide a knife around the inside edge of the individual dishes and turn them onto serving plates. Or scoop out 6 or 8 servings from the large soufflé dish. Over each serving, drizzle the warm molasses and sprinkle chopped, toasted pecans.
*A "ramekin" is an oven-proof ceramic or glass serving dish, usually round, but sometimes in novelty shapes, ie, hearts or ovals.
The entire recipe = 1,000 calories (1,242 calories with molasses and pecans). Divided into 6 servings = 167 calories per serving (207 with molasses and pecans). Eight servings = 125 calories per serving (155 with molasses and pecans).
Katherine's "Light Sweet Potato Flan with Vanilla Bean" was adapted from award-winning cookbook author, Deborah Madison's "Local Flavors: Cooking and Eating From America's Farmers' Markets."
Sweet Potatoes, considered one of the "Super Foods," are loaded with Beta-Carotene, the orange pigment which is a potent anti-oxidant. It is important for your immune system, your skin, your vision, bones, reproduction, and may reduce cancer risk. But sweet potatoes provide so much more; they're also high in fiber, vitamins C, E, the B vitamins, and minerals such as potassium, manganese, magnesium and iron. Sweet potatoes' origins date back thousands of years in Peru, became a favorite of Christopher Columbus once he landed in America, and grow particularly well in the American South, where they have become a staple.