Katherine's Diet Tip #4: Don't Cook on Weekdays + Addictive Asparagus Recipe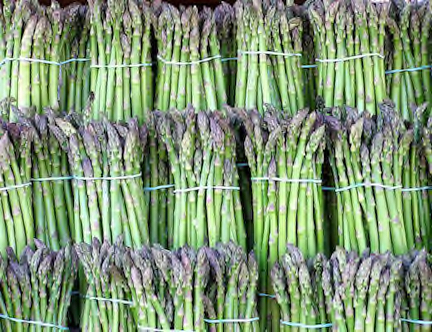 Strange advice? Well, I mean it. Life is busy, busy, busy, and if you try to do your weekday cooking on top of everything else, you'll find yourself making reservations at every joint in town.
To take stress out of your life (and calories out of your diet), get in the habit of preparing batch meals ahead of time, preferably on weekends, when you're not as rushed and tired as you are during the week.
This concept is so important that I've added an extra section of recipes for batch cooking in my book, "Diet Simple," and more in "Diet Simple Farm to Table: 50 New Reasons to Cook in Season!"
The idea is to prepare quick and easy dinners ahead of time so that you always have something in the freezer or refrigerator that's ready to go on a moment's notice.
Let's say I'm going to make "Veal Stew with Carrots La Boutard" as my main course batch meal and, taking advantage of this seasons most delectable vegetable, my "Chilled Asparagus in a Creamy Tarragon, Shallot and Toasted Walnut Vinaigrette" as my batch side dish. I'll keep enough in the refrigerator for Sunday and Tuesday night dinners; the rest goes in the freezer for dinners on Thursday and Saturday nights.
Other nights I might have rotisserie chicken from a local supermarket, burritos or pizza - meals that I can whip up in a hurry. Since I do most of the shopping and cooking on weekends, I spend hardly any time on food preparation during the week. That makes life easy!
Let's say you eat out one night during the week, but the other nights you have these delicious and nutritious meals at home. You could save at least 400 calories per meal - and that's 36 pounds in one year!
Excerpted from "Diet Simple: 195 Mental Tricks, Substitutions, Habits & Inspirations" (LifeLine Press) by Katherine Tallmadge. Recipe excerpted from "Diet Simple Farm to Table Recipes: 50 New Reasons to Cook in Season!" also by Katherine Tallmadge.