Katherine's Diet Tip #1: Minesweep for Calorie Bombs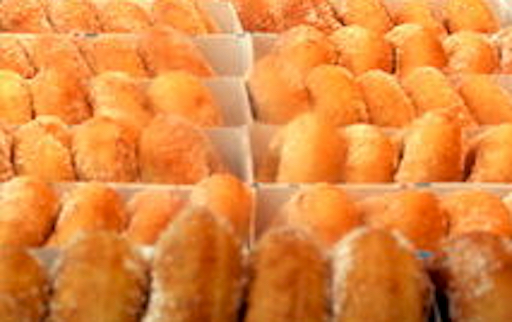 Are you ready for spring? I mean, is your body ready ... to shed the heavy coats and sweaters, to wear lighter weight, more form-fitting clothes? If not, or if you would just like to learn some good tips, follow me in The Georgetown Dish every Monday with proven strategies to lose weight, improve your health or just increase your knowledge about nutrition. Through spring, we'll be losing weight together, so you'll be ready for the warmer days to come!
Losing weight is not about discipline or will power. It's about controlling your environment. Period.
We all have different strengths and weaknesses which must be considered when cutting calories or making any other healthful lifestyle changes. Let's talk about me, Katherine Tallmadge. One of my main weaknesses is chocolate. I can't stop with one piece. That's simply not "normal" for me. I'll occansionally indulge my passion with a small piece of dark chocolate, but I've learned never to bring home a full box of chocolate-covered caramels. It will be gone in a day or two, max.
I'm no better with chips. I have no self-control, and I know it. So I'll occasionally buy a 1-ounce bag. But a big bag? Never!
One of my strengths (finally, something positive!) is that I love fruit. I stock up on cut-up fruit so I always have it at my fingertips.
You have to recognize your own "mines." I advise everyone to minesweep the kitchen for those calorie bombs that can explode your weight. Have a hard time resisting ice cream? Then get rid of the half gallon. Candy bar pitfall? Toss out the leftovers from the Easter season.
Minesweeping your kitchen periodically to get rid of things you shouldn't have in the house in the first place will save a tremendous amount of calories over time. Add the things that you like and should be eating, and you'll do even better! Be good to yourself and make your negative behaviors hard and your good behaviors easy.
If just one candy bar is replaced by an apple every day, you'll save 175 calories. That adds up to about 18 pounds lost in one year!
* Excerpted from "Diet Simple: 195 Mental Tricks, Substitutions, Habits & Inspirations" (LifeLine Press) by Katherine Tallmadge