Karin Broos Exhibition at House of Sweden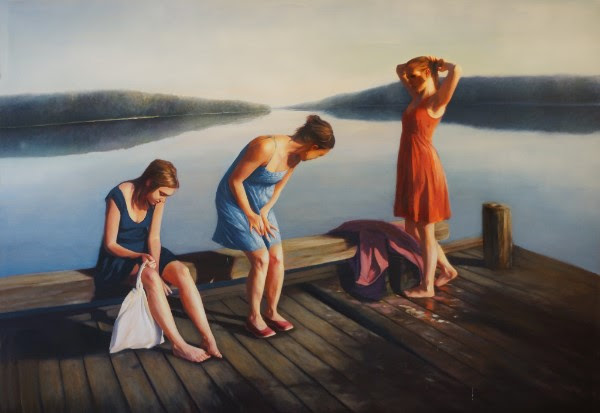 One of Sweden's' most widely recognized artists, Karin Broos, will be presenting her Still Life series at House of Sweden through June 24, 2018 on Saturdays & Sundays from noon until 5:00 pm. FREE admission and guide on site.
With her photorealistic portrayals of apparently everyday scenes, she expresses ambiguous sentiments and universal feelings of melancholia and gloom.
Karin Broos started her career as an abstract painter after studying at 's-Hertogenbosch in the Netherlands before moving on to photorealism. The subjects in her atmospheric works are mainly from her home in Östra Ämtervik, the Värmland countryside, the Fryken lakes, and her own family. These works often portray individuals in her close family, her daughters, her grandchildren, or herself. Karin Broos' work also often explores different kinds of interiors and self-portraits, referring to 17th century Dutch paintings and symbolism as well as to contemporary art. In this exhibition, her work is complemented by the inclusion of excerpts from Sara Broos' acclaimed film Speglingar (Reflections) about a mother-daughter relationship and intriguing artist talks and events relating to Karin Broos' oeuvre.
Curated by: Prince Eugen's Waldemarsudde Art Museum and Alma Löv Museum.
*/
House of Sweden is located at 2900 K Street in Georgetown.