Karen Pence & Midwestern Loyalty at First Lady's Lunch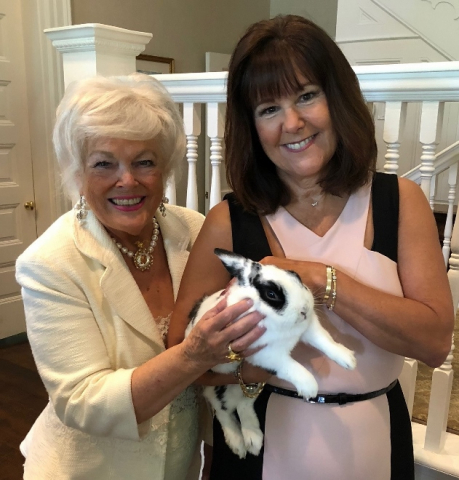 "Be Best" is now a Melania Trump-inspired song with lyrics "have the biggest heart" written by country singer Billy Dean and sung at the Congressional Club's First Lady's Luncheon Tuesday (May 15) in Mrs. Trump's absence.
Dean said he composed the song in his hotel room on Monday night after he heard the news that the First Lady was recovering from successful surgery in Walter Reed National Military Medical Center but would not be able to make the lunch in her honor.
Mrs. Trump underwent surgery Monday for a benign kidney condition. She attended the event in 2017, the first year of the Trump presidency.
Second Lady Karen Pence who substituted for Mrs. Trump praised the First Lady as a "remarkable woman with a big heart….and who is dedicated to helping young people, and to the cause of fighting the opioid epidemic.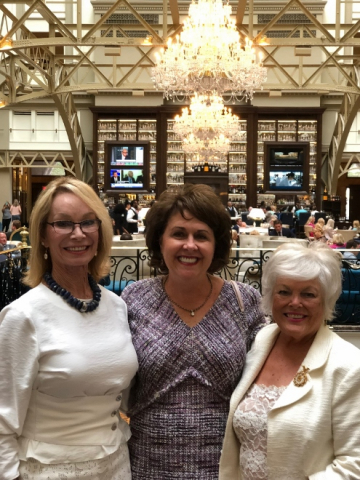 Earlier this month, Mrs. Trump launched BE BEST – a campaign focused on the well-being of children.
Country music icon Lee Greenwood sang "God Bless the USA" to help jump start the 106th Congressional Club reception.
Spotted at luncheon were: arts patron/businesswoman Metta Krach (Georgetown University law school board member) from San Francisco, Patti Coons, Republican political activist from Indiana and an active Trump/Pence supporter; Wrenzie Rice (who was suppose to be among those escorting Mrs. Trump but didn't have the chance, she is wife Rep. Tom Rice, R-S.C. ); and Sandy Hageman and Mary Beth Bos, Indiana businesswomen.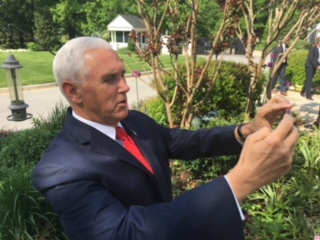 A group of 29 or so Indiana women got a guided tour of the Vice President's Mansion earlier in the morning with Karen and Mike Pence. They also got to be photographed with Pence family pet rabbit, Marlon Bundo, whose name is on a children's book.
Furthermore, in the evening, the loyal Indiana contingent (Mike is the state's former governor) dined at the Trump Hotel.
The First Lady's luncheon planning committee was chaired by Pat O'Halleran and co-chaired by Jennifer Messer who is president of the bipartisan Congressional Club. The chairs, in their talks, wished Mrs. Trump well and a speedy recovery. Also remembered was former First Lady Barbara Bush who recently passed away.
The lunch benefits charitable and educational causes.
Key sponsors included Aflac, KIA Motors, The Heritage Foundation. Mrs. April McClain Delaney, Hageman and Bos.