Kale and Peach Salad with Toasted Almonds & Balsamic Vinaigrette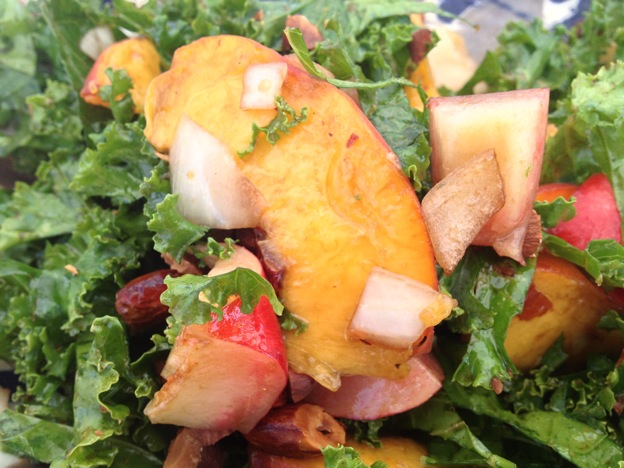 The peaches this season are exceptional: sweet, juicy, full of flavor. This recipe is a perfect way to feature them at any gathering; it's always a favorite! Excerpted from my book, Diet Simple Farm to Table Recipes: 50 New Reasons to Cook in Season!
Vinaigrette:3 Tablespoons Extra Virgin Olive Oil1 Tablespoon Balsamic VinegarSalt and Pepper to taste
Salad Ingredients:6 Handfuls of fresh Kale (or other greens), washed, tough stems removed, and torn into bite-sized pieces2 Cups Fresh Sliced Summer Peaches and/or any seasonal Berries2 Ounces toasted slivered Almonds½ Sweet Onion, peeled and sliced
In a large bowl, add the olive oil, vinegar, salt and pepper. Whisk together. Add the kale, onion, almonds, and peaches and toss together. Serve immediately.