Kahn Directs a Tour de Force Hamlet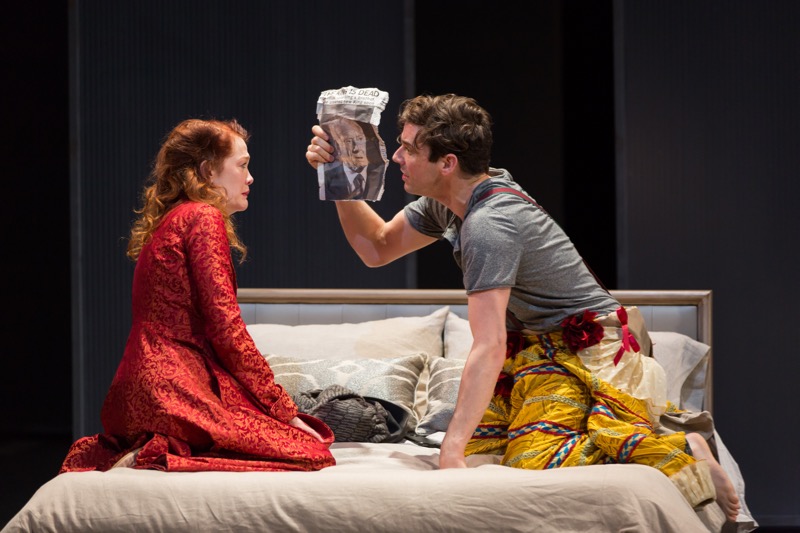 The king of Denmark has been murdered and his son Hamlet comes home from school to deal with all the craziness of his family's situation. Some think he is going mad, and this is a madcap play with plenty of humor. His school friends and family are all spying on each other as they try to figure out what is going on. Casting Michael Urie as Hamlet may not have seemed the thing to do for this most famous of Shakespeare's plays and for what Michael Kahn has said will be his last time directing Shakespeare at the Shakespeare Theatre Company (STC). Urie has been called a brilliant comedic actor and we all know him from his roles in 'Ugly Betty', his brilliant one-man show Buyer and Cellar at the STC, and his recent rave reviews in New York for Torch Song. But Kahn said he always wanted to do Hamlet with Urie since having him as a student at Julliard where he performed a scene from the play with fellow student Jessica Chastain. You quickly recognize not only was it an inspired choice after hearing Urie deliver the soliloquy "O, that this too too solid flesh would melt Thaw and resolve itself into a dew!" which Kahn moved to open the play instead of its usual place in Scene two. By the end of the play you know what you saw can only be called a tour-de-force performance by Urie.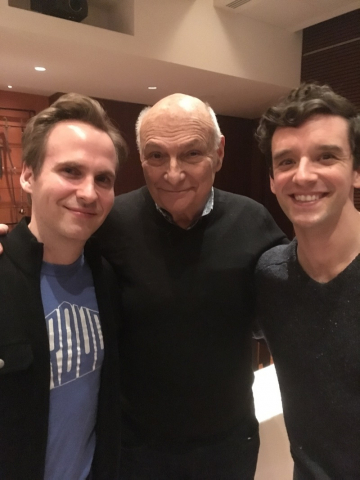 Kahn has said about this production "As I return to this play, I've found myself thinking about its complexities—public and private, political and familial—not in new ways, necessarily, but with an altered center of gravity in the world of 2018. First, we must remember that, beneath the diplomatic emissaries and complicated political plotting, Hamlet is at root an intimate family drama about a son deeply in mourning for his dead father and disturbed by his mother's sudden remarriage. The family relationships that lie at the heart of Hamlet are crucial to the piece."
While staying true to Shakespeare Kahn mused "While I was thinking about directing this play over the past year and a half, the world changed. All over, bullies and autocrats are gaining power and influence, signaling a resurgence of authoritarian leadership that seemed inconceivable a few years ago. Now, Hamlet is not a political play, but the situation in the play is a political one. This is a play where everybody spies on everyone else, a society where trust is meaningless—in large part because a very serious crime has been committed and is being covered up by the powers that be. Claudius' paranoia has led to a kind of surveillance state, where questions and criticism are notably absent. It is a true test of Hamlet's intelligence and improvisational ability to remain one step ahead of his enemies in this mousetrap world. This time around, I started thinking that one of the reasons Hamlet puts on his "antic disposition" is that it provides a way for the spied-upon to become a spy himself. After all, if you're crazy, people might say more things in front of you than they would otherwise. Hamlet's madness, of course, means something, but it also says something profound about the mad world he—and we—are living in."
He went on to say "In sum, this Hamlet is a family drama of the most powerful kind and also the most explosive kind of political theatre. I have decided to hear it anew by taking it deadly seriously, as something Shakespeare might write today. For all these reasons, I have decided that this play works best for our purposes in modern dress, set it in an unnamed country. It still may feel all too familiar."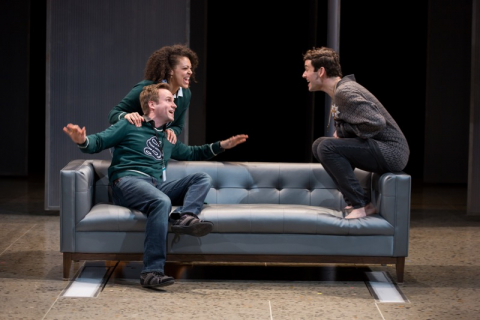 So if you keep Kahn's thoughts in mind when you go you will revel in this modern day Hamlet understanding it stays true to what Shakespeare wrote. From the security desk and computer screens in the opening scene to the smartphones the cast uses to text each other, it all works. If you have seen or read Hamlet you will get insights into the play you might not have had before; if you are new to Hamlet you will become a fan and understand how great a play it is. . For those who question the modern dress I would remind you when it was originally performed it was also in modern dress of that time.
Joining Urie is a star powered cast including Madeleine Potter (Gertrude), Hamlet's mother, who shines with a commanding presence particularly in act two. Two cast members who stand out are Ryan Spahn (Rosencrantz) and Kelsey Rainwater (Guildenstern) who make you laugh with their on target performances including their entrance when they are taking selfies. Keith Baxter (Ghost/1st Player/Gravedigger), the oldest member of the cast by far, reminds you with every scene he is in why he has had such a great and long career. Federico Rodriguez (Horatio) is a winning friend to Hamlet and Robert Joy (Polonius) who is returning to STC after his brilliant performance as King Charles in last season's production of Mike Bartlett's King Charles III is equally brilliant here. Paul Cooper is a totally believable Laertes. The entire company do themselves proud.
This production is enhanced by all those incredibly talented people behind the scenes. Kahn has put together a brilliant group including scenic designer John Coyne, costume designer Jess Goldstein, lighting Yi Zhao, sound and original music Broken Chord, and of course Kahn's assistant director Craig Baldwin. Together with the cast they make this production of Hamlet a memorable night in the theater no one should miss.
Hamlet will be at Sidney Harman Hall through March 4. Get your tickets today.
*/