'JW' 'JW' 'JW'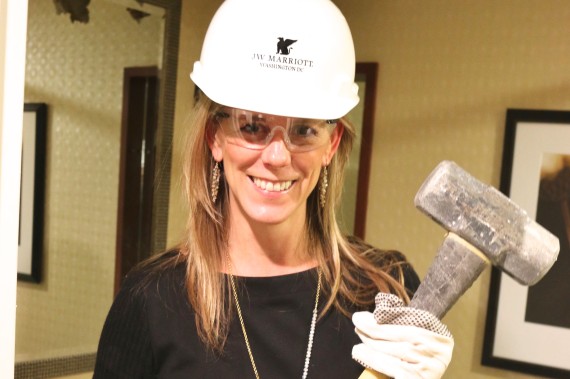 "With JW, every one of our designs is custom. So, we don't have a room that's a standard room. Everything is custom," said Mitzi Gaskins, VP & Global Brand Manager for JW Marriott Hotels. "When you think about DC and the location of this hotel, there's so much that goes into the business traveler–the men's very tailored suit, crafted and curated, it fits with the brand too" she added explaining the driving concept behind the renovation for the iconic hotel property on Pennsylvania Ave.
After being built in 1984, the company felt that this was a perfect time to update the look and feel of the hotel with a massive overhaul of the building including more than 90% of the 772 rooms and suites. The update wants to represent the personal and refined aspects of the brand by modernizing the colors and fabrics used in all the rooms, including pops of color and patterns, the same way a pocket square or necktie would brighten up an executive's suit.
"This is where it all started" emphasized Gaskins about the flagship property in DC. The hotel holds the name of the company's founder and was established as a tribute to him. "This is a brand that was built out of love." Media toured the property to see how the updates we taking place and were even invited to swing a hammer or two as part of the demolition of the old rooms. The bright and revitalized rooms are sleek and modern and invite the guest to truly feel comfortable, no matter where they are from. In the king-sized rooms, bathtubs were being replaced with more modern stand up showers, the colors and carpets and flooring all modernized, and even the doors on each room were widened to 36 inches to make each room ADA accessible. No issue is too small to tackle when it comes to comfort for the guest.
Written by Brendan Kownacki