Journos rock out for charity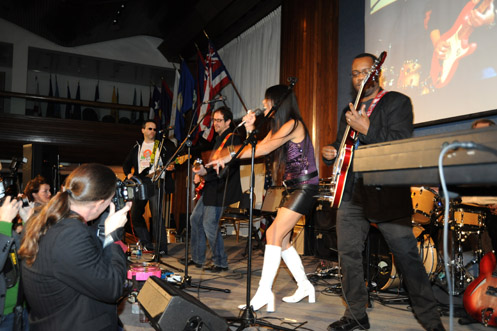 Seven bands worth of DC's finest scribes turned out to entertain at the National Press Club on Friday evening at the 3rd annual Journopalooza to benefit Reporters Without Borders, PJ Journalist Assistance Program, and The Eric Friedheim National Journalism Library.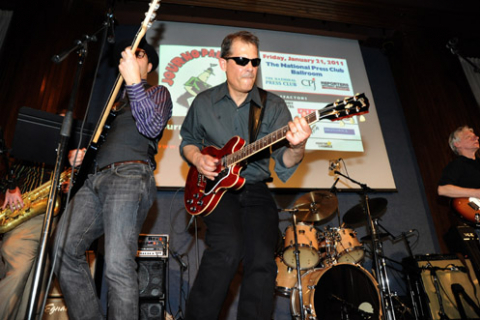 A packed house of friends and family and perhaps the journo-curious were treated to performances by Dirty Bomb, comprised of Reuters reporters congressional correspondent Andy , Mark Felsenthal and TV producer Kat Jackson; Nobody's Business, featuring the talents of award-winning correspondent Jonathan Landay, award-winning McClatchy correspondent Gordon Witkin, a watchdog with the investigative journalists at the Center for Public Integrity, Joe "The Shadow" Hodges, a scientist at the National Institute of Standards and Technology, Jody Myers, Assistant General Counsel of the International Monetary Fund Melissa Bronez and the International Monetary Fund's Paul Ashiin; NRBK, whose members include journalists Bill Triplett, Rob Deigh, attorney Nelson Garcia, Kyle C., a program manager for an international communications and information technology company, broadcaster Heather Haze and attorney Allen Littman; Rebecca & Peter, which pairs the talents of Bloomberg's Rebecca Christie and the Stafford County Planning Commission's Peter Fields; The Stepping Stones, comprised of the Washington Post's John Kelly and Dan de Vise with software developer Chuck Dolan and the University of Maryland's Tim Brennan; The Charm Offensive with veteran journalist Chris Lehmann, AARP's Meg Guroff, Mike Blau, a software engineer at NASA's Goddard Space Flight Center and Geordie Grindle who does systems security at AOL; and Suspicious Package, the uber-popular pop artists showcasing the talents of Pulitzer prize-winning Washington Post political cartoonist Tom Toles, former TIME and Bloomberg correspondent Tim Burger, Medill National Security Journalism Initiative Director Josh Meyer, Deputy Assistant Secretary of Housing and Urban Development Bryan Greene and band belle Deputy Assistant U.S. Trade Representative Christina Sevilla.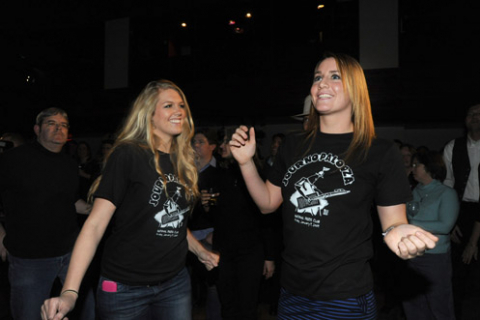 Unlike years past, Journopalooza 2011 included a guest referendum to name the favorite band of the evening. This inaugural tally had Suspicious Package receiving the lion's share of the aye ballots—affording them the dubiously coveted title of Best Journo-Band.
While perhaps we don't foresee anyone quitting their day jobs, we're tuning our instruments up for next year. We're gunning for you, Suspicious Package. Then again, we're not giving up our day jobs either.