Join the Crowd at Georgetown Piano Bar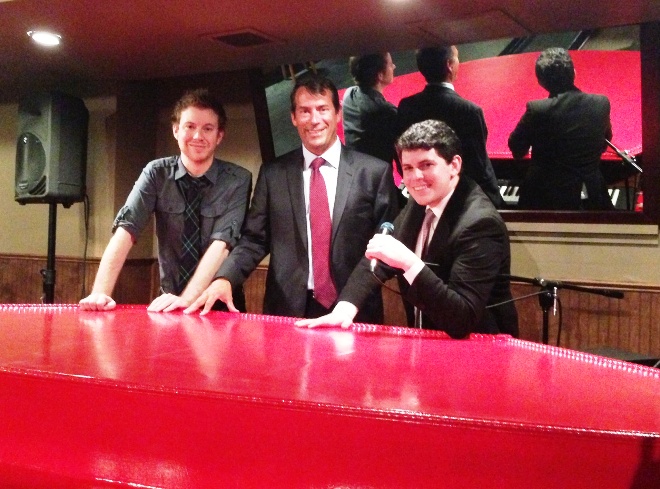 "Washingtonians like to get involved,"says Bill Thoet, one of the partners of the city's latest music venue, Georgetown Piano Bar opening this Friday, September 12th. Promising world-class live entertainment showcasing two of the area's most recognized pianists, Hunter Lang and Spencer Bates, the establishment will be open seven days a week starting at 5:00 pm.
Having procured one of Georgetown's six coveted tavern licenses earlier this year, and spurred by the closing of Mr. Smith's, and Modern lounge space being available, the group decided to "build a piano bar."
Those with a favorite tune are welcome to request it here andlyric books will be made available to encourage sing-along. Guests itching to get up and perform solo will have the opportunity to do so as well. Thoet, an Executive Vice President of Booz Allen Hamilton, is an avid piano bar goer himself. He enjoys singing Frank Sinatra hits and famous show tunes.
Guests can look forward to live piano music beginning at 9:00 pm until closing time seven nights a week. There's no cover charge to enter and enjoy the entertainment, centered around the red piano with three keyboards! Guests can relax, gather, mingle and sing. "Georgetown Piano Bar is not going to be one of those places where a piano player is the background music for people having high-end cocktails," Thoet assures.
The bar's design plan allows for one or two piano players to perform together. It also incorporates seating for guests to sit directly across from the piano player or to listen while lounging on custom upholstered built-in benches just across the bar.
Georgetown Piano Bar's weekend performer, Hunter Lang, is a singer/songwriter and pianist who oiginally playing by ear, and later studied classically with Lithuanian Virtuoso Broniaslavia Kimel and the brilliant Memphis musician Joan Gilbert. Hunter plans to release his first album in December 2014.
Guests at Georgetown Piano Bar can look forward to Hunter's interactive show, which delivers an emotional and physical performance. Classically trained, he has an extraordinary skill playing the piano, producing a sound that is all his own. The World Music Society has stated "that if you combined Jerry Lee Lewis, Billy Joel, and Mozart, you would have Hunter Lang." His unique voice, timbre, and vibrato leaves the crowd wanting more as Hunter is a showman who uses humor and charm to woo his audience.
Georgetown Piano Bar's weeknight performer, Spencer Bates, is a DC-based singer/songwriter, and piano entertainer. He will be performing Sunday, Monday and Tuesday evenings as well as the first, second and fifth Wednesday of every month. For over a decade, he has played nightly at solo and dueling piano bars, universities, and other venues across the country, including an eleven year, three night a week gig in Georgetown, DC. Completely self-taught, Spencer has written, recorded, and released three solo albums.
Georgetown Piano Bar is located at 3287 M Street. Tel: 202.337.1871