John McCain: A Republican, A Hero, An Enigma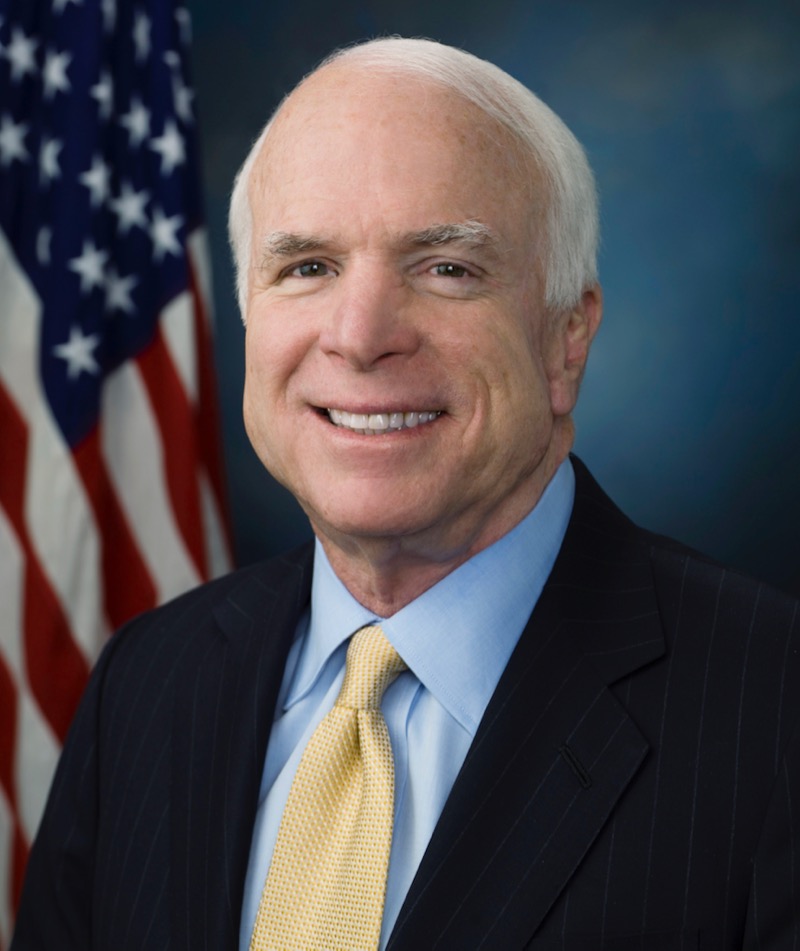 John McCain is many things. He is a Republican, a hero and an enigma. I respect and honor his service to the nation during war and peace but was not sorry he lost especially in the general election when the person he lost to was Barack Obama. In his last Senate campaign he took an ultra-right wing position on immigration to satisfy his Arizona constituents. He was a rich man who once couldn't remember how many houses he owned.
He is an enigma in so many ways. Every time he did something I agreed with friends would remind me of where he stood on so many issues. He opposed a federal minimum wage, voted for privatizing Social Security and even once voted against a more robust education bill for veterans.
As he did during his last Senate campaign he often took positions to try to get elected and then backed away from them. One example was during a presidential primary campaign, when McCain sharply criticized leaders of the religious right as "agents of intolerance" allied to his rival, Gov. George W. Bush, and denounced what he said were the tactics of "division and slander." McCain even singled out Pat Robertson and Jerry Falwell as corrupting influences on religion and politics and said parts of the religious right were divisive." Then in an interview in March 2007, David Brody for CBN news asked McCain about these comments, "Do you regret saying it? Do you feel like you need to apologize for it at all? To which McCain responded, "I was angry. And sometimes you say things in anger that you don't mean. But I have put that behind me. It's over."
McCain often mixed religion with politics forgetting the Constitution regarding the separation of church and state.When interviewed in 2007 by Beliefnet, a website that covers religious affairs, McCain was asked if he thought a non-Christian should be president of the United States. He answered, "I just have to say in all candor that since this nation was founded primarily on Christian principles, personally, I prefer someone who has a grounding in my faith." Later he said, "I would vote for a Muslim if he or she was the candidate best able to lead the country and defend our political values." But later added his belief that "America is a Judeo-Christian nation."
McCain voted against federal funding of birth control and sex education and against spending $100 million to reduce teen pregnancy by education and contraceptives. He also voted more than once against legislation requiring insurance plans that cover prescription drugs to also cover birth control. Yet he voted yes on reauthorizing the Violence Against Women Act.
In 2017, his vote saved the Affordable Care Act when he voted against abolishing it making a strong statement on the floor of the Senate about not passing legislation that hadn't gone through proper order, which included all the committees and hearings. But even before the applause for that speech died down he apparently reversed himself by voting for the Trump tax bill even though it included significant last minute changes made behind closed doors.
In 1983, McCain opposed creating a federal holiday in honor of Martin Luther King, Jr. and only reversed his position when Arizona rescinded a King State holiday and there was an economic boycott and image problems for the state. Then in April 2008, McCain said, "We can be slow as well to give greatness its due, a mistake I made myself long ago when I voted against a federal holiday in memory of Dr. King. I was wrong."
When it came to LGBTQ rights he was against a federal right to gay marriage wanting it left to the states and he voted no on a bill that would have extended the definition of hate crimes to include sexual orientation. He also voted no on giving the LGBTQ community job protections. Yet he was a strong supporter of Eric Fanning, an openly gay man, speaking out and fighting for his confirmation on the Senate floor when he was nominated as Secretary of the Army.
You can understand how much McCain will be missed when looking at the acquiescence and sycophantic behavior of the current Republican Congress to the despot in the White House. Agree or disagree with him his voice and wisdom will be missed.
There are millions of Americans of all races, genders, nationalities and political persuasions who honor him and thank him for his service to our nation.
This article first appeared in the Washington Blade.
*/