Jewelry Appraisals at Bonhams Wednesday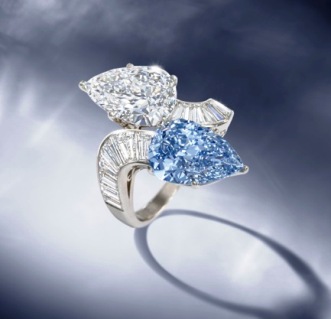 Martin Gammon, managing director of Bonhams Auctioneers will be hosting an all day Jewelry Appraisal Event in their new Georgetown office, this coming Wednesday, March 28th. The Director of Bonhams New York jewelry department will be on hand to evaluate fine jewelry for upcoming auctions in New York and London.
The jewelry market is increasingly global, with significant expansion in regional markets such as Russia, China and India, areas where Bonhams has a long-standing established presence.
Marketing fine jewelry to these international markets requires finesse. As Gammon explains, "We recently sold one of the rarest stones, a natural blue diamond, in London, to a Russian client." It's a stunning blue diamond crossover ring made by Bulgari (shown above) which came from a private European collector and had never been seen at auction before." The collector's father commissioned the ring from the legendary Italian jewelry house as a gift for his wife in the mid 1960s, when Bulgari was at the height of fashion and innovation. And the price? "On an estimate of 600,000-800,000 pounds, it sold for 1,900,000 pounds, or $2.6 million."
Typical of Bulgari's elegant simplicity, the ring offered by Bonhams was "set obliquely with a pear-shaped diamond, weighing 3.93 carats, D colour, VS2 clarity, and a pear-shaped fancy vivid, natural blue diamond (the highest grading for a coloured diamond), weighing 3.72 and SI2 clarity." This meant the blue diamond sold for £492,000 per carat.
The term "fancy" is used to describe a diamond of intense colour and the colour "fancy vivid blue" is one of the rarest. Blue diamonds are structurally the purest of all diamonds, with barely any impurities within their crystal lattice. They account for less than one percent of all diamonds mined.
This jewelry appraisal event is by appointment only. Please contact Martin Gammon for further details.
Bonhams is at 2902 M Street. Tel: 202-333-1696