Jessica Alba Lobbies The Hill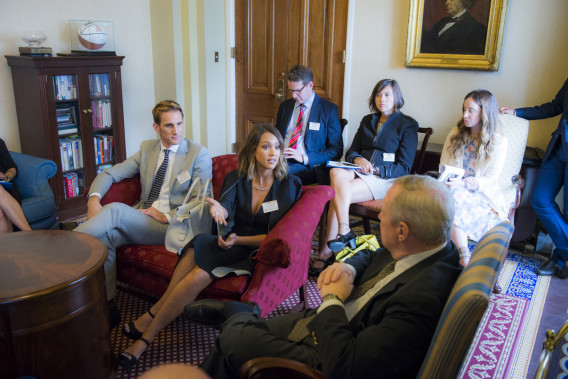 Do not call Jessica Alba a starlet. Many people might know the 34-year-old as an actress from Sin City, The Fantastic Four or TV's Dark Angel; but these days, Alba is all business and she wants you to know it. Alba is the co-founder of the The Honest Company, a consumer products company aimed mainly at child and childcare products that emphasizes natural materials and ethical consumerism. Now before you start thinking this is another Hollywood vanity project, the Honest Company has grown exponentially since its founding in 2011 and is now valued near $1 Billion. Alba and her partners take this growth seriously; she was recently on the cover of business mag Forbes, and that's only the beginning.
Alba and the team are looking more broadly than their own company these days, coming to Washington recently with a delegation of companies under the umbrella of the American Sustainable Business Council, to advocate for reform on chemical use in consumer products including the long awaited overhaul of the Toxic Substances Control Act (TSCA).
"I really just went about developing and creating the business and all of its attributes around what I wanted as a consumer and what I felt; the needs weren't being met, my needs weren't being met and people's needs weren't being met…to have effective, safe, beautifully designed and affordable products to live a healthier life" said Alba, talking about the genesis of the her company, an idea she started to dream up while pregnant with her first child. "Everybody wants a safe and healthy world, especially for children. They are the most vulnerable the most susceptible to adverse effects on how these chemicals can affect their health," she added as she described the importance of the changes she came to Capitol Hill to demand during meetings with several high ranking members of Congress.