Jelleff Advocate Seeks Funds for Overhaul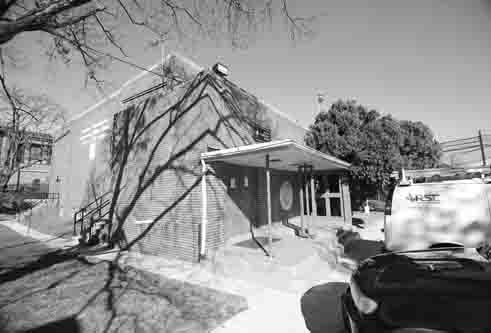 By Brady HoltCurrent Staff Writer
Whenever Christina Grigorian looks at Georgetown's Jelleff Recreation Center, she finds herself thinking about the site's potential.
The 3265 S St. property, tucked away in an enclave behind the Wisconsin Avenue commercial strip, is one of the most popular of the D.C. Department of Parks and Recreation's 70 centers citywide. But Grigorian wants to see something more than a 1953 building with a surface parking lot; the mother of three Jelleff users imagines a modern new facility with more indoor athletic space and other amenities.
Grigorian organized a meeting of stakeholders at the center last Thursday, where she shared her vision for a $27 million project that would combine a community space like Southeast's Town Hall Education Arts and Recreation Campus (THEARC) with a gymnasium modeled after Georgetown Preparatory School's field house.
But the city's parks department isn't encouraging her to hold her breath.
Several top officials from the agency attended the meeting, and chief of staff John Stokes said Jelleff wasn't identified as a priority for major investment in a recent report outlining recreation needs across the city. Neither the agency, the mayor nor the D.C. Council has allocated funds for a Jelleff overhaul.
Stokes acknowledged that the Jelleff facility is well used — though not over capacity — and that the building could use some improvements. The city has been making relatively minor fixes there over the last few months, he said. But with a generous amount of space and safe operating conditions, it's not necessarily the leading candidate for a major project.
"Across the city there are lots of facilities that are deplorable, so those are the kind of spaces where we say that the little amount of money that we have needs to go to these places," said Stokes.
Accordingly, Grigorian acknowledges that Jelleff's best bet is a public-private partnership. She started with the British School of Washington, located half a block from Jelleff, which has a contract to access the facilities during the day when they'd otherwise be underused.
"Our school and our owning company has stated that we are prepared to be involved and to invest in such a project," head of school David Rowsell said at the meeting.
Stokes said the best bet for Jelleff advocates at this point is to make their case to the mayor and council, starting with a request for $250,000 to $500,000 that would go toward planning an upgraded or replacement facility.
However, there wasn't an overwhelming push for changes among the audience at last week's meeting, which was comprised of several parents, a couple members of adult sports leagues, and representatives of the Boys & Girls Clubs of Greater Washington, which manages the facility after having sold it to the city several years ago.
One Jelleff parent said that in calling for greater diversity of programs, Grigorian might have been selling short the center's current offerings. "A lot of things that you were speaking about are already in place," he said, "and I don't want to see that disappear because we have a new building."
Michael McDonald, regional vice president for the Boys & Girls Clubs, echoed the sentiment that programming should come first.
"Who doesn't love a new building? It's like having a new car or something. It looks great, it smells great," said McDonald. "But it's really tertiary to our desire to have children in this neighborhood have a place to go after school."
This article appears in the Nov. 19 issue of The Georgetown Current newspaper.