Jazz Fest Joys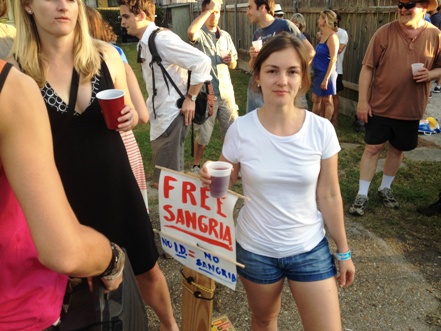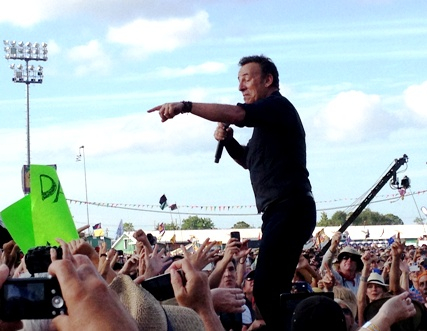 When I started dating my husband, who lives in New Orleans, LA, and we decided to split our time between "the city that care forgot" and Georgetown, he told me three weekends that were absolutely non-negotiable. Mardi Gras weekend and the two Jazz Fest weekends. I started to write for The Georgetown Dish during Mardi Gras, so it only seems appropriate that I share with you some of the highlights of this past weekend. While everyone in D.C. was getting dressed up for the White House Correspondents' Dinner, I was donning my best music festival attire (jean shorts, t-shirts, flip flops).
To me, Jazz Fest is divided into three distinct yet complementary experiences.
The Water Booth
My husband's stepmom Mary runs one of the water booths. I love the water booth. Selling water to someone who is hot, sweaty, and thirsty is extremely satisfying. Handling the money drawer and figuring out how quickly I can give the right change and get the line moving is my favorite game. Seeing people's reactions when they try to buy beer and realize that we "only sell water" is priceless. And of course, the perks of the water booth are well worth the work: we have shade and the booth has become a gathering area for family and close friends.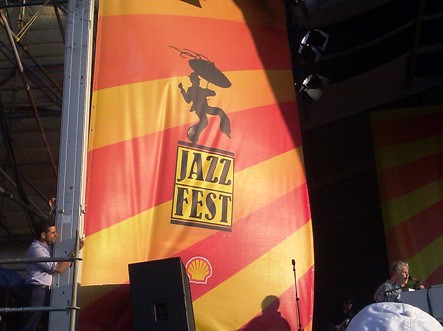 The Food
I can never decide if Jazz Fest is a music festival with great food, or a food festival with great music. It is always a challenge to decide which food stalls to visit. The food assortment is incredibly well curated, ranging from what I call the "classics" (crawfish Monica, crawfish bread, Natchitoches meatpies, and of course the cochon-de-lait Po-boy) to the "exotics" (including the best Greek food as well as refreshing Vietnamese noodles and spring rolls). And of course, I love the Sofia Coppola bubbly that is sold in cute pink cans that come with their own individual straws. And the food doesn't stop when you leave the Fest. On Fortin Street, along the fairgrounds, as I walk back from the Fest to my hubby's Vespa, there is free Sangria (yes, free Sangria; no catch; and it's delicious; and yes I can't quite believe it), and delicious spicy sausage, made by residents who just love the attention their neck of the woods gets this time of year.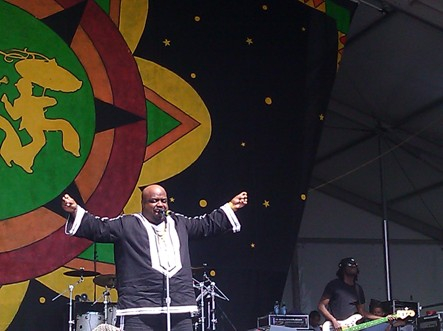 The Music
Then, of course, there is the music. On Friday night, I was transported back to high school by The Beach Boys. This show kicked off their reunion tour, and while they are older than how I remember them, then again, so am I. I sang along to "Surfin USA," "California Girls," "Kokomo," and "I Get Around," ecstatic to hear these songs that shaped my image of American beaches long before I got to visit any. The lady next to me, in her fifties, wondered at how I could surely not be old enough to remember all these songs. I just told her I was "old-fashioned!" The mood (at least my mood) was lighthearted, yet somewhat nostalgic for "the good old days."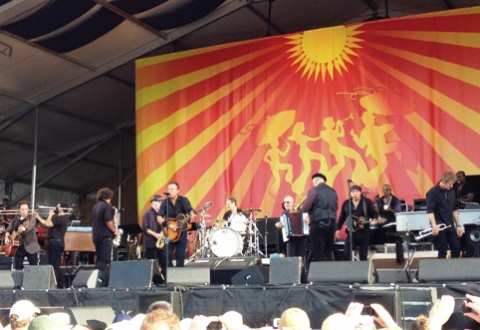 The atmosphere was different at the Cee Lo Green concert on Saturday afternoon. He sang some of his best known songs, including "Crazy" and "Forget You" (the "clean" title) but also brought out his old band Goodie Mob for a rap set within a set, reminding the audience that he has been around for a long, long time and is a "rapping m---- f----." He showed his (large, tattooed) belly with pride (admitting "I'm not shy") and his gold and diamond watch and necklaces sparkled in the sunshine as he encouraged the audience to dance.
The grand finale was Bruce Springsteen and the E Street Band on Sunday evening. Just like I love The Beach Boys, I love Bruce Springsteen. Whereas the former represent California care-free surfer culture, the latter represents the hard blue collar colder life of the Northeast. The Boss regaled the crowd with 2.5 hours of music, energy, heart, poetry, and politics.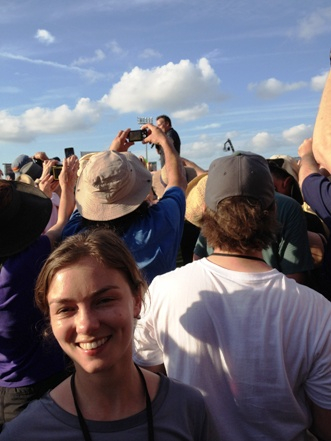 He sang "City of Ruins," which he sang at Jazz Fest in 2006 (the first Jazz Fest after Hurricane Katrina) after a long monologue about calling up ghosts of the past. From classics such as "Badlands" and "Dancing in the Dark," to singles such as "We Take Care Of Our Own" from his recently released album Wrecking Ball, he put on a show that evoked the broadest range of emotion. Forever an anti-elitist, he interacted with the audience not only musically, but also physically. He crowd surfed, brought a teenaged boy on stage to sing the chorus of "Waiting on a sunny day," invited Dr. John who preceded him on stage to sing "Something you've got," danced with a woman from the crowd, and also with the two interpreters (I love that the music gets translated into sign language).
Heading home to D.C., I already can't wait to be back in New Orleans for weekend #2 of Jazz Fest 2012.