James Corner Field Operations Selected to Reimagine First Mile of C&O Canal National Historical Park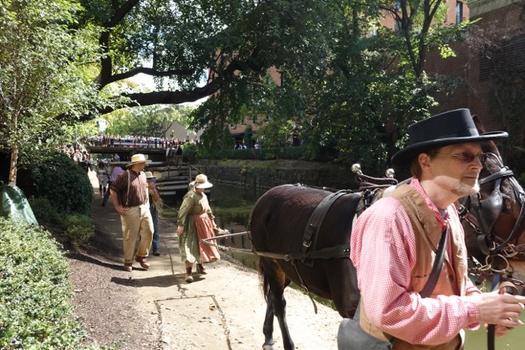 Georgetown Heritage has selected James Corner Field Operations, the celebrated urban design and landscape architecture firm known for New York City's High Line, to develop the Georgetown Canal Plan, a comprehensive master plan for a one-mile section of the Chesapeake and Ohio National Historical Park (C&O Canal NHP) in Georgetown. The National Park Service (NPS), Georgetown Heritage, and the D.C. Office of Planning will work with the community to restore, reimagine and revitalize this treasured historic place.
"The James Corner Field Operations team brings exceptional ingenuity, boundless energy and extensive experience partnering with cities, parks and community groups to create stunning, lively spaces that reflect each site's distinct character and maximize its potential to engage people of all ages and cultures," said Alison Greenberg, Executive Director of Georgetown Heritage.
The design team, which includes MakeDC, Robert Silman Associates, ETM Associates and Dharam Consulting, will develop the Georgetown Canal Plan, which re-envisions this popular section of the canal.
Over the next year, Georgetown Heritage and the NPS will seek input and ideas from the community on how to improve the park's unique stone structures, locks, towpath, plazas and street crossings to maximize the park's immense educational, recreational and aesthetic potential. The NPS and Georgetown Heritage will provide more information in the coming months about how to get involved.
"The National Park Service is thrilled to partner with this distinguished design team—along with Georgetown Heritage, the City and the community—to realize our vision of the C&O Canal as a picturesque, safe and sustainable historical park where people come to have fun and learn about history, science, nature and art," said Superintendent Kevin Brandt, C&O Canal NHP.
The public is invited to an informal meet-and-greet reception with the design team on Wednesday, March 29 at 6 p.m. at Foley & Lardner (3000 K St NW, Suite 500). Those planning to attend should RVSP via email to info@georgetownheritage.org. (This event is an introductory meeting only and not a part of the public design and comment process.)
The Georgetown Canal Plan, along with repairs to Locks 3 and 4, and the launching of a new historic replica canal boat, is the first phase of the C&O Canal NHP's multi-year restoration. The first phase began in October 2016 and is expected to be completed in summer 2018.