Jack's Boathouse Fights Possible Eviction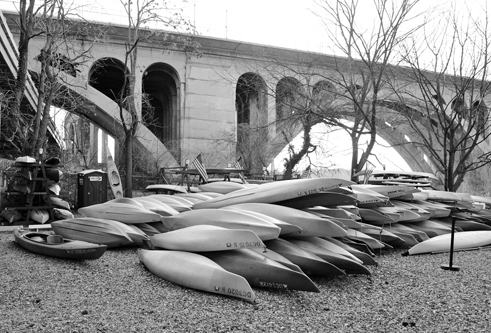 By Alix PianinCurrent Staff Writer
The fate of Jack's Boathouse, a Georgetown mainstay that has rented kayaks, canoes and rowboats on the Potomac River for nearly 70 years, is still up in the air after a series of run-ins with the National Park Service over the holidays.
On Dec. 18, Jack's Canoes and Kayaks LLC learned it was being evicted from its long-running rental facility. The Park Service informed the company it would need to leave by Jan. 31, with officials later explaining that the manager of Jack's technically held no lease for the space.
After receiving hundreds of letters in protest, Park Service director Jon Jarvis announced on Christmas Eve that the eviction would be put on hold until he gets a chance to review the case. But in the meantime, Jack's Boathouse owner Paul Simkin is left to wonder whether his business will remain intact by the end of the month.
The boathouse, located at 3500 K St. by the Key Bridge, has provided boat rentals and storage since its opening in 1945 by former D.C. police officer Jack Baxter. In 1984, the District government transferred jurisdiction of certain Georgetown waterfront property — including the site of Jack's Boathouse — to the National Park Service.
Jack Baxter's son, Frank Baxter, took over after his father died in 1999, and ran it with Simkin, his friend and business partner. Simkin stepped in as manager and owner after Frank Baxter died about four years ago.
Since then, pricey renovations and canny marketing have put Jack's Boathouse on the map as a destination spot for outdoorsy residents and visitors. Business was booming — which is why Simkin was shocked to receive the letter from the National Park Service last month informing him of the pending eviction.
Park Service regional director Stephen Whitesell wrote to Simkin that the business was to "terminate its occupancy of the leased premises" and vacate by the end of January. Simkin would then be offered a chance to join other vendors in bidding for a new contract for the space.
Park Service spokesperson Carol Johnson described the measure as "strictly a procedural thing" that came about as part of the agency's attempts to standardize vendors and contracting on its land.
Officials found in a review of the business that Simkin did not hold a formal lease with the Park Service, she said. After Frank Baxter's death, the lease did not automatically transfer in name over to Simkin. "Whether it was legal was questionable," said Johnson.
But Simkin said he "absolutely" believes that he has a proper lease.
He said he has made consistent monthly payments to the National Park Foundation, the charitable nonprofit that directly supports the National Park Service. "I know that I've been paying — without ever a break in payment — to [the foundation] and the checks have been cashed," he said.
According to Johnson, until this year the contract for Jack's Boathouse contract had not been formally reviewed in more than 30 years. The business pays about $4,200 a year to the National Park Foundation, Johnson said — the same amount agreed upon in 1982.
It is unusual to have an independent business paying rent on National Park Service land, Johnson said; most vendors have concession contracts with the agency. And since the Park Service, as a government agency, isn't permitted to collect money from leases, all payments from Jack's Boathouse have gone to the parks foundation.
Simkin agreed that the model isn't ideal. He said he began working with Park Service representatives about a year ago toward an agreement that would trade in the current lease for a three-year temporary concession contract. Under that arrangement, the Park Service would regulate Jack's, and the business would turn over a percentage of its profits to the agency.
Simkin said that he was eager to formalize that agreement this summer — only to find that his Park Service contacts stopped returning his calls and letters.
Johnson confirmed that the Park Service had discussed developing a concession contract with Jack's Boathouse several months ago, but said no clear conclusion was ever reached.
News of the eviction notice, first reported by The Georgetowner on its website, prompted an outcry from the boathouse's supporters, who quickly took to the Internet to rally around Simkin. Jesse Rauch — executive director of the D.C. State Board of Education, and the force behind 2009's campaign to save the annual Screen on the Green film festival at the National Mall — started a petition on change.org to lobby for Jack's Boathouse. Within the first 36 hours, the petition was receiving about a hundred signatures an hour, Rauch said — and with each of these, the National Park Service director received an automated email in support of Jack's.
Director Jarvis said in a statement that in light of the hundreds of letters he received, he would put a temporary hold on the eviction; he also reaffirmed his enthusiasm for having boating access in the area.
According to spokesperson Johnson, "the Park Service is committed to having boating operations there." But, she allowed, "it may not necessarily be the same management."
Johnson last week reiterated the Park Service's plans to put a temporary concession contract on the boathouse property up for bids, but said the property must first be vacated.
All the recent renovations at Jack's Boathouse have been paid for out of pocket by Simkin, who liquidated his retirement pension and invested about $350,000 into overhauls. The efforts to make his patch of the waterfront a desirable hangout have paid off enormously, he said. In one year, the number of customers jumped from 4,000 to about 72,000.
Even if he's allowed to bid on the concession contract, Simkin said any eviction, however temporary, would devastate him. Not only would he have to let go of his 27 employees, but he would also have to sell off the entire facility — which includes more than 300 boats and a dock he paid for himself — this month.
"If I have to go, I can't come back," he said. "I'm done, Jack's is done."
Simkin said he has been working with a lawyer, and still hopes for another resolution with the agency.
"We've never wanted anything … special in rent," he said. "I'm just brokenhearted and crushed."
This article appears in the Jan. 2 issue of The Georgetown Current newspaper.